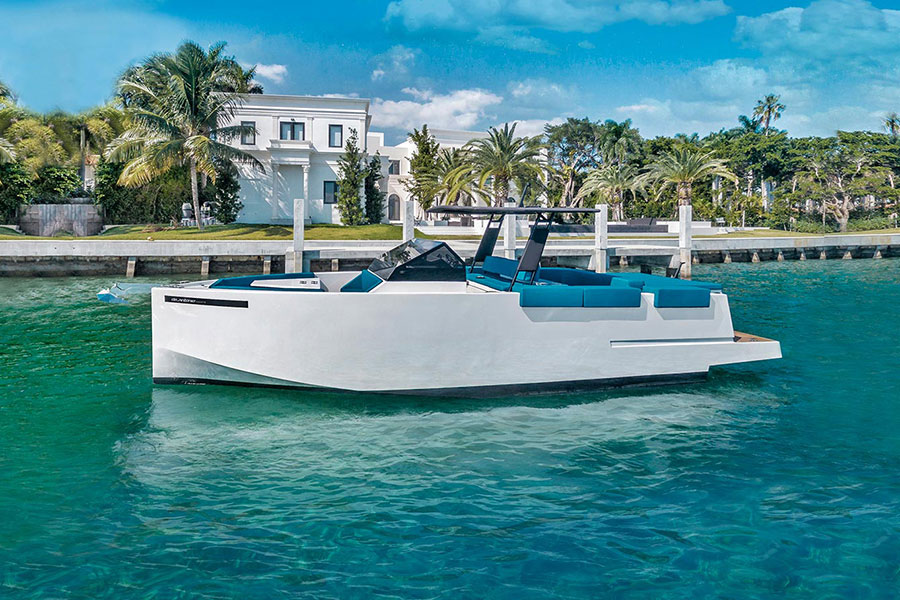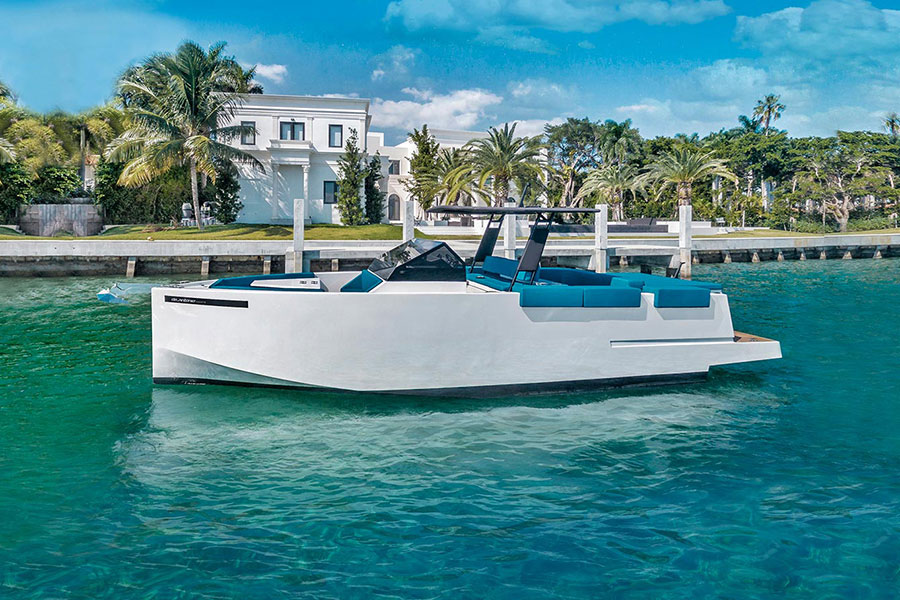 D34 Open
Maximum space on deck
The design of the yacht offers an exclusive deck, with large areas of solarium and seats both stern and bow, made to
enjoy to the maximum with friends and family on board.
Benefits and style
With an adjusted displacement, the D34 Open allows to offer a high cruise speed with a low consumption in addition of an easy handling in maneuvers. Its two hidden outboard engines favor economical maintenance and improve acoustic comfort.
In the interior, a fully equipped bathroom and a double stern cabin offer the desired comfort. Its complete series equipment and its great variety of optional accessories and finishes make of each D34 Open a unique boat.
Design and Styling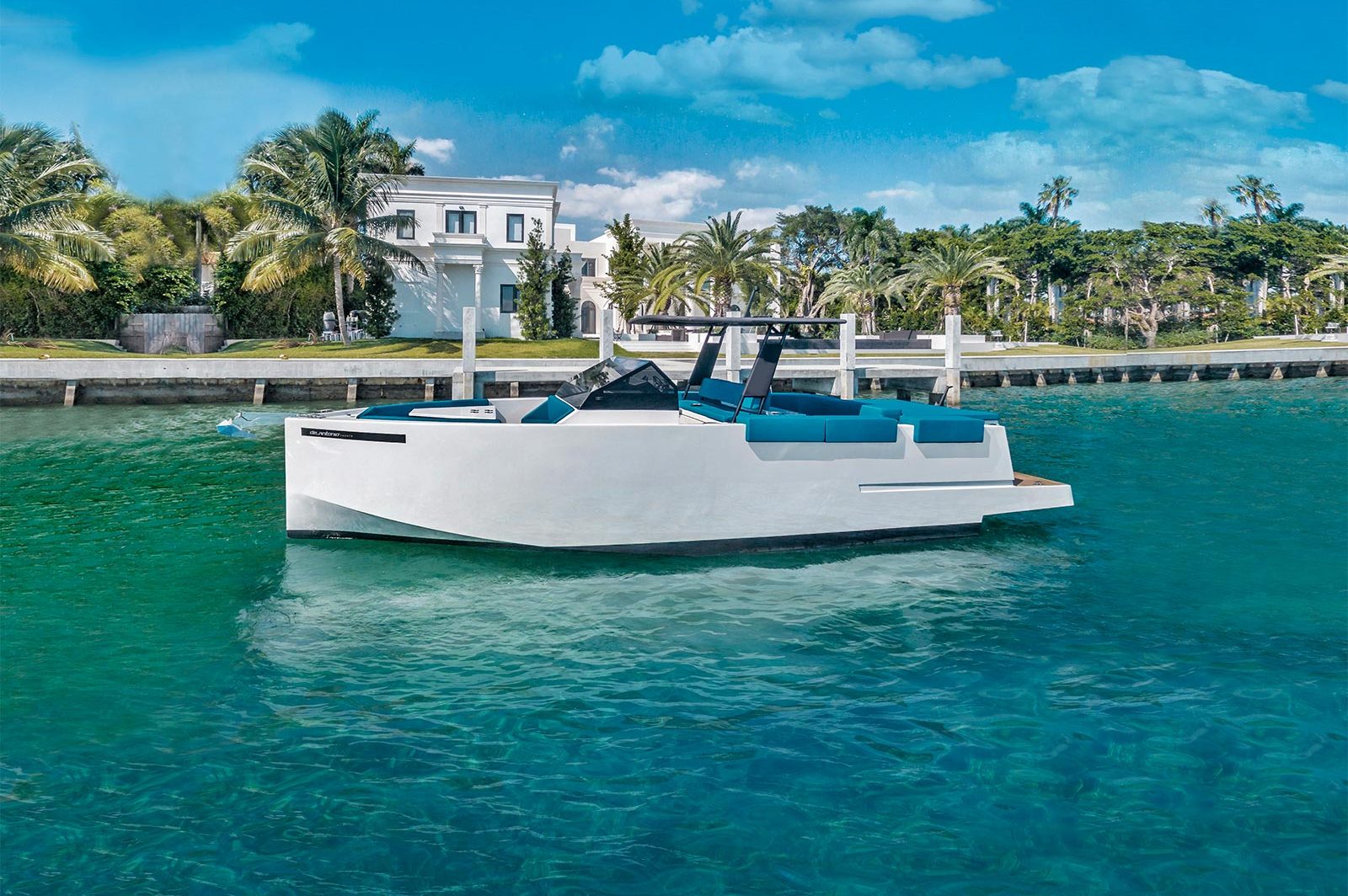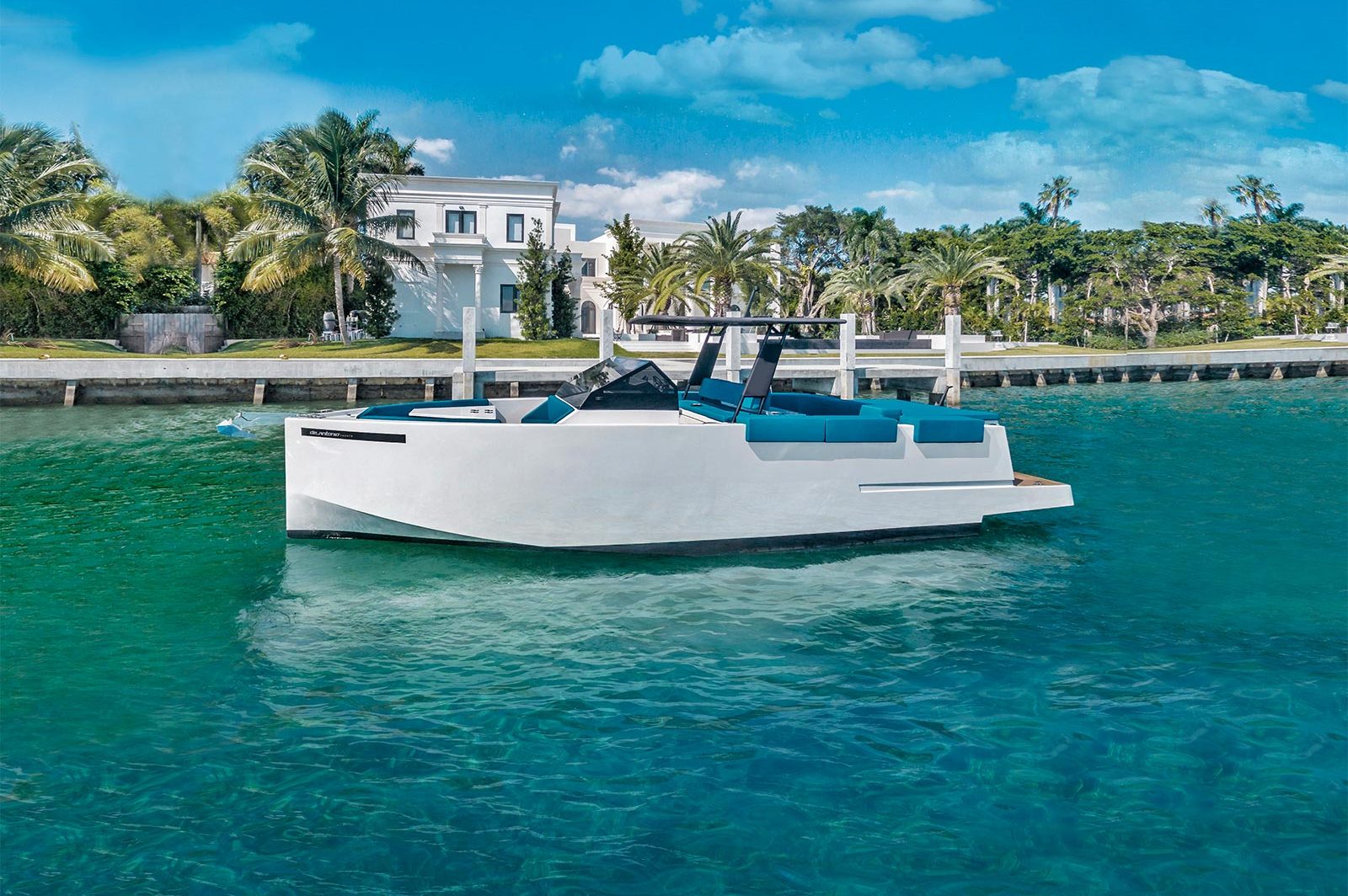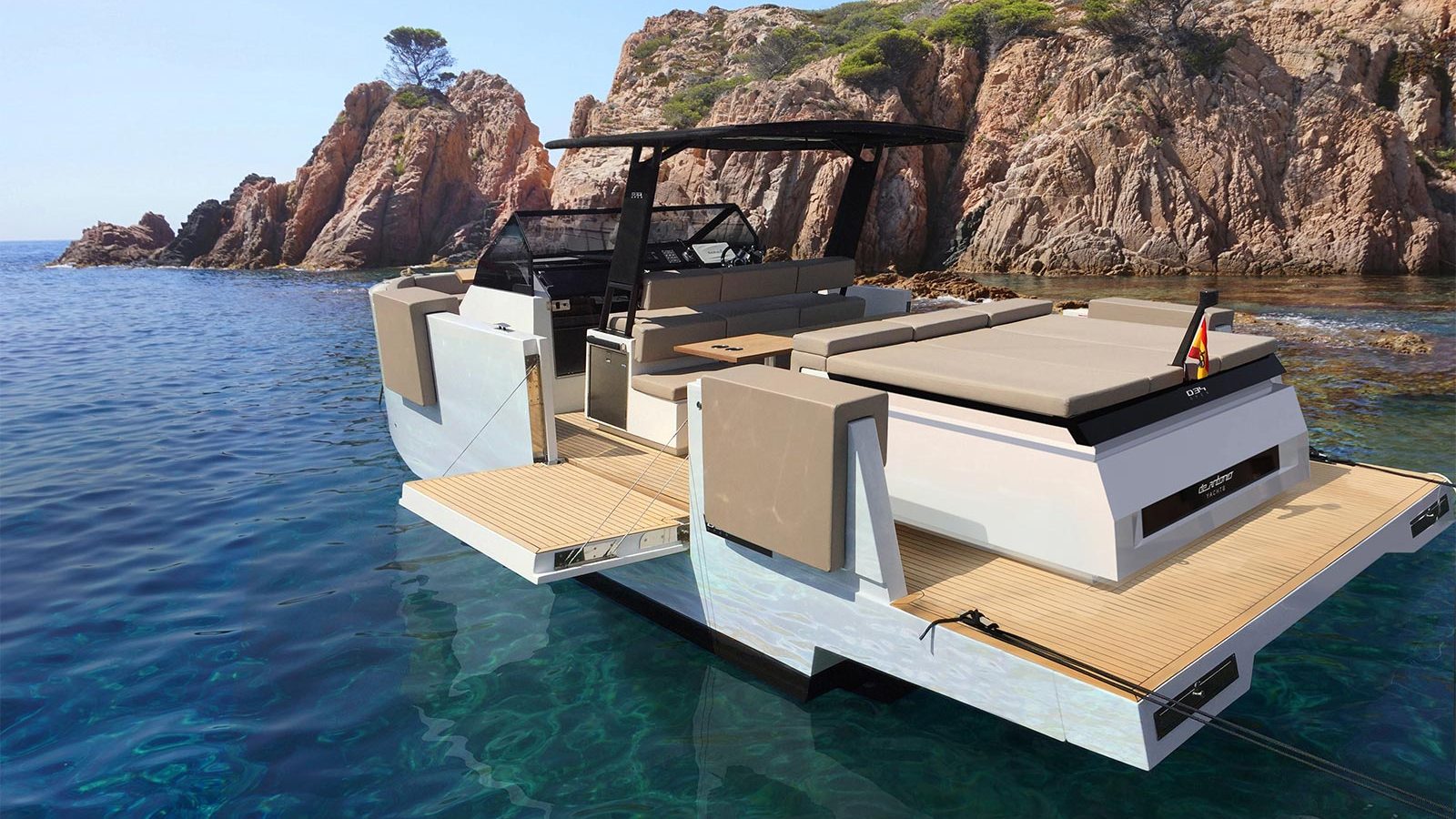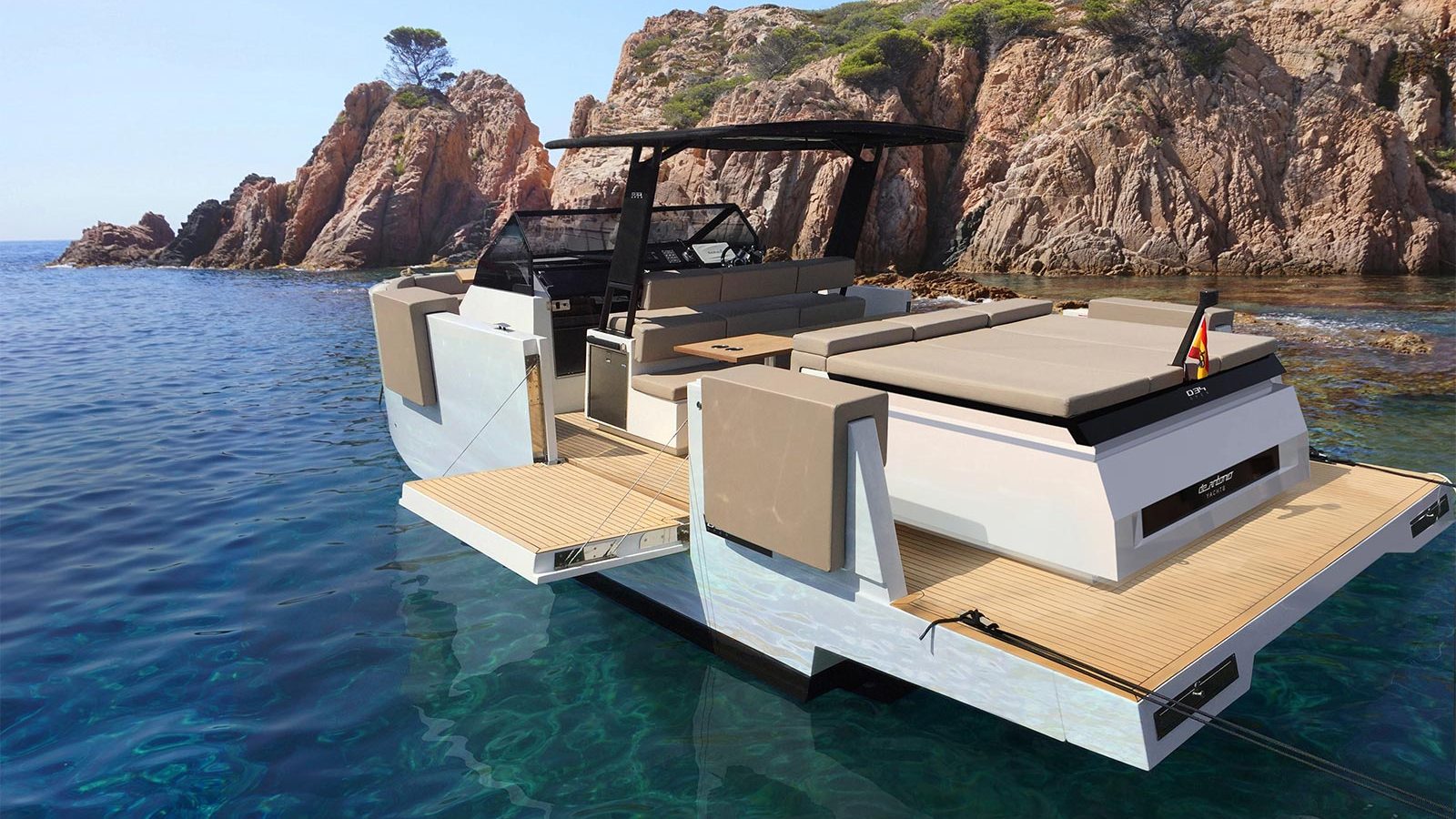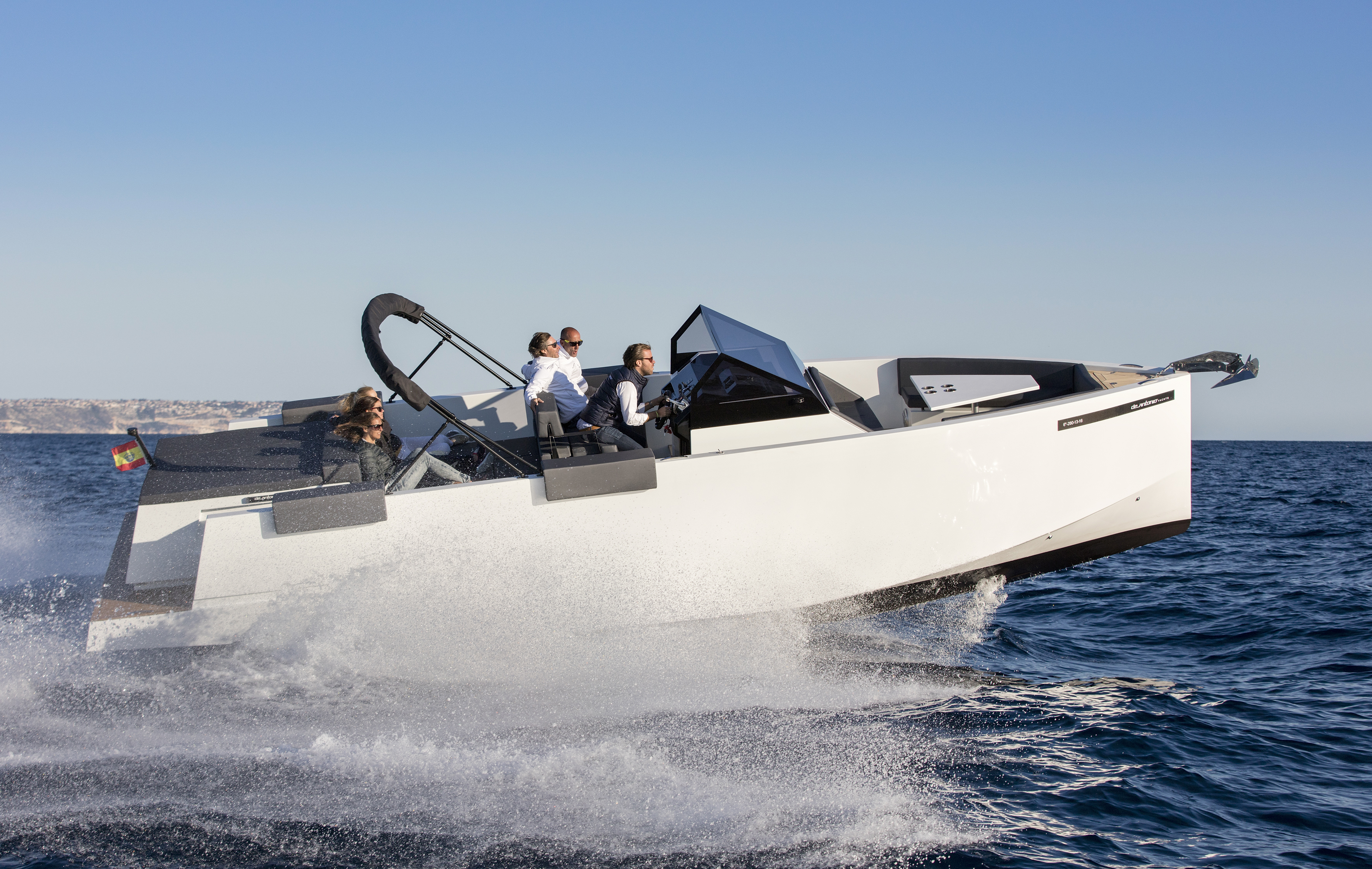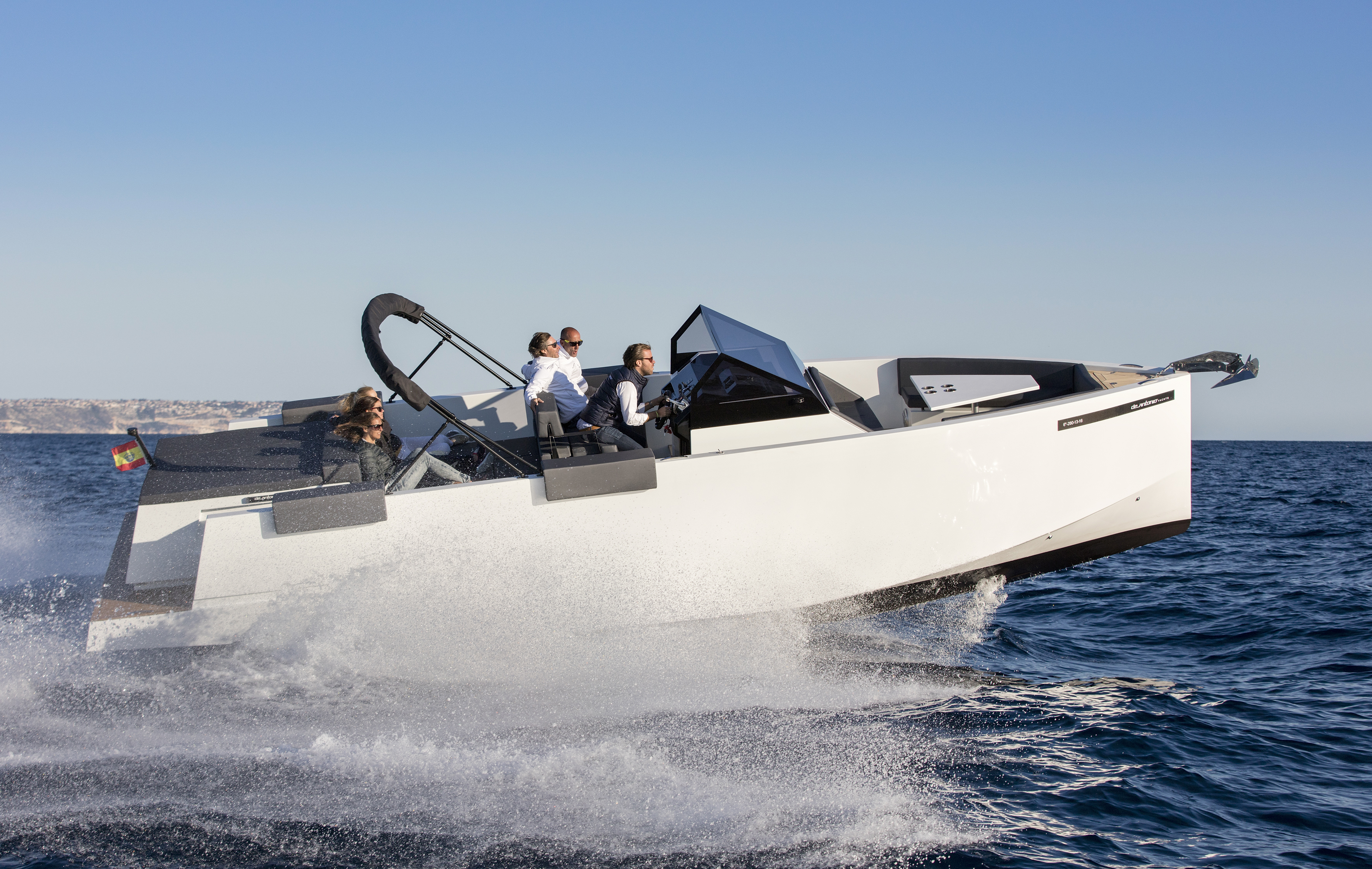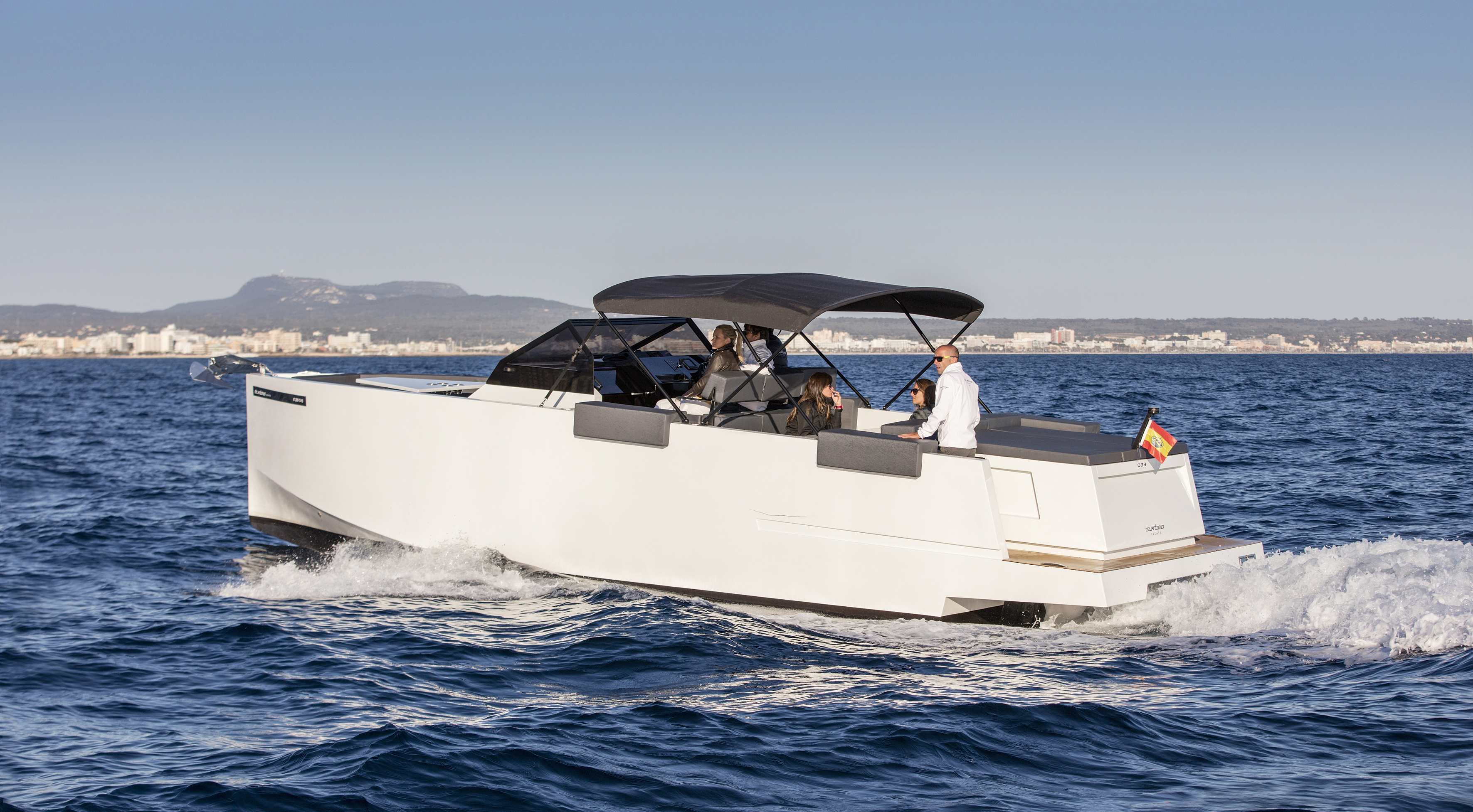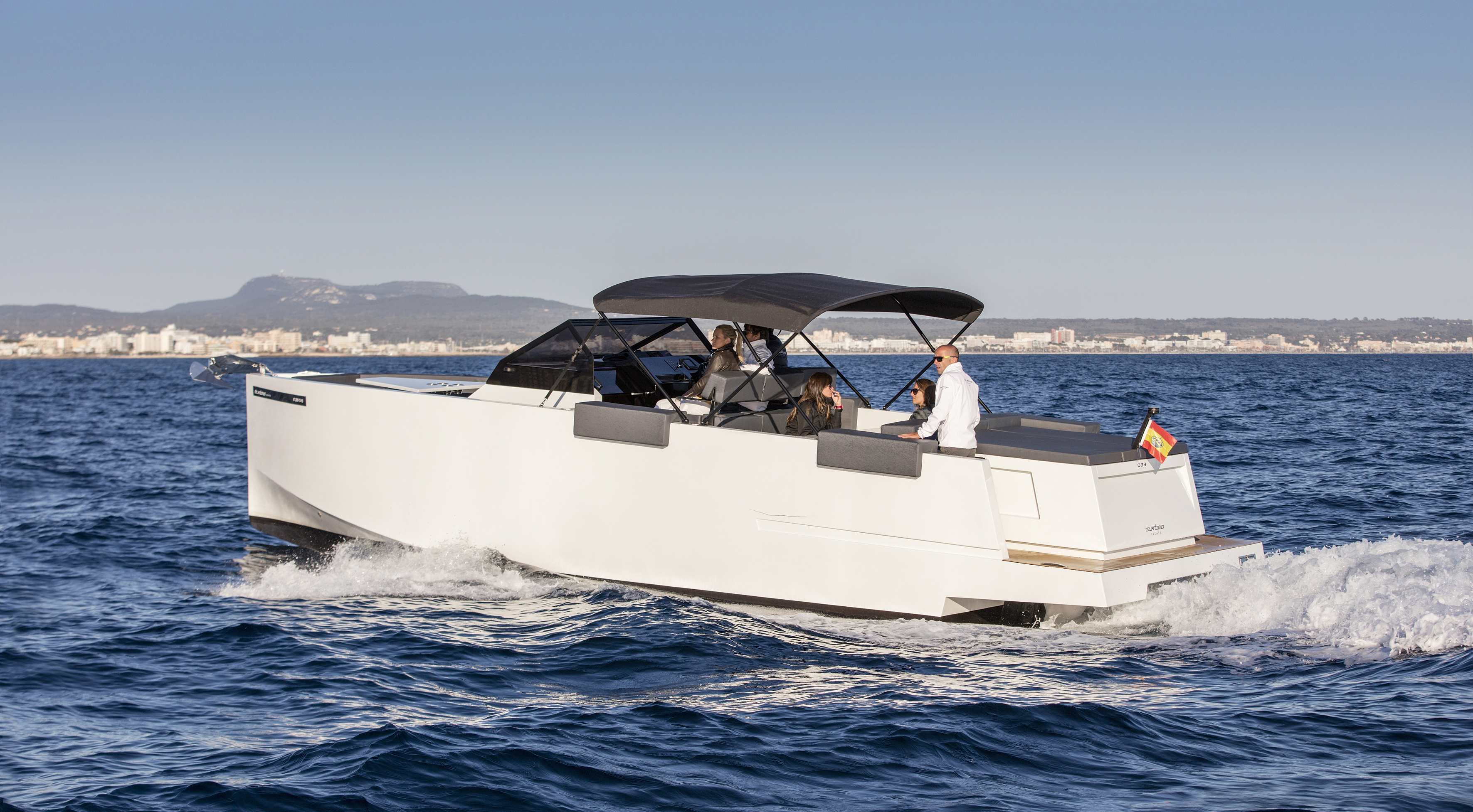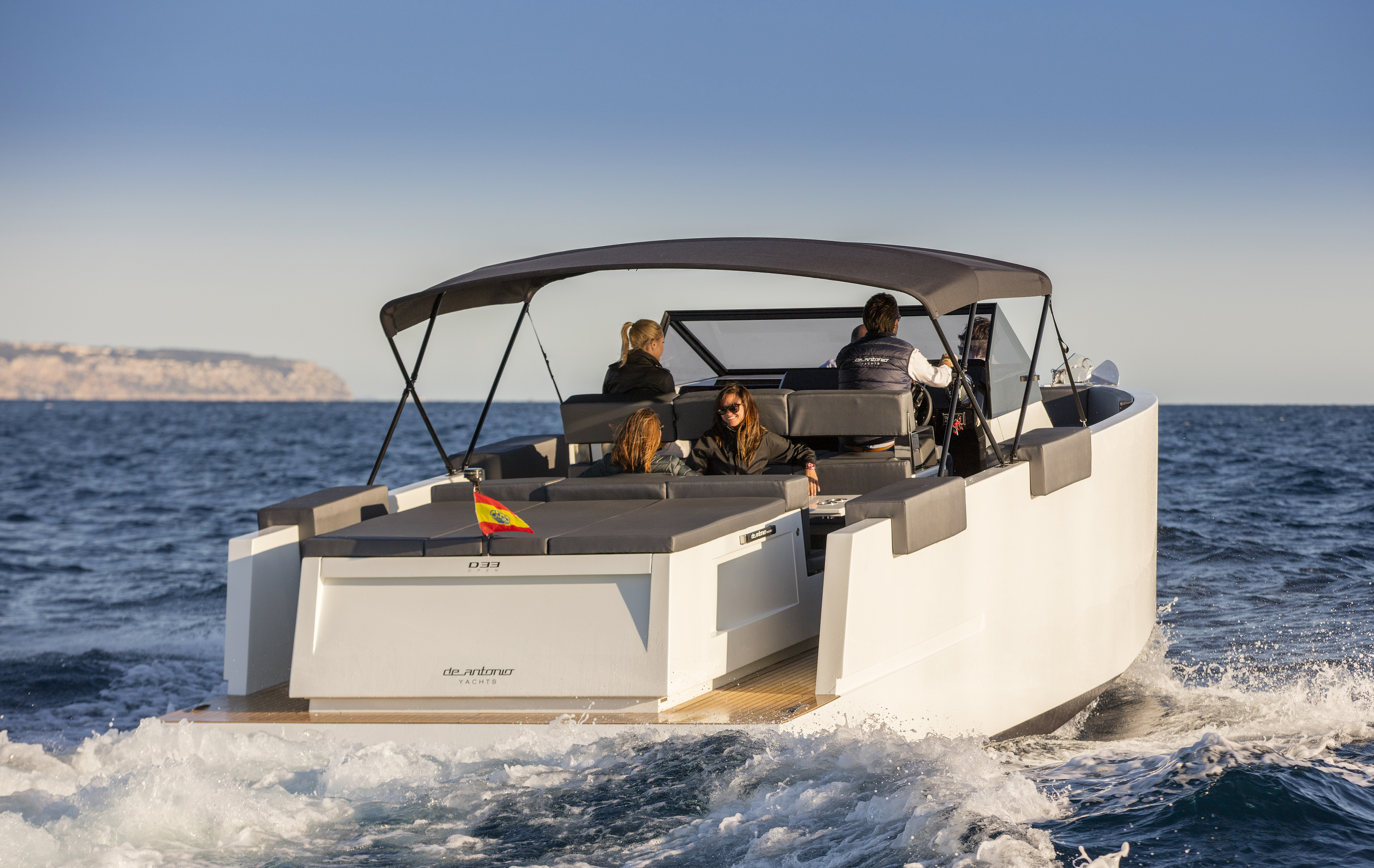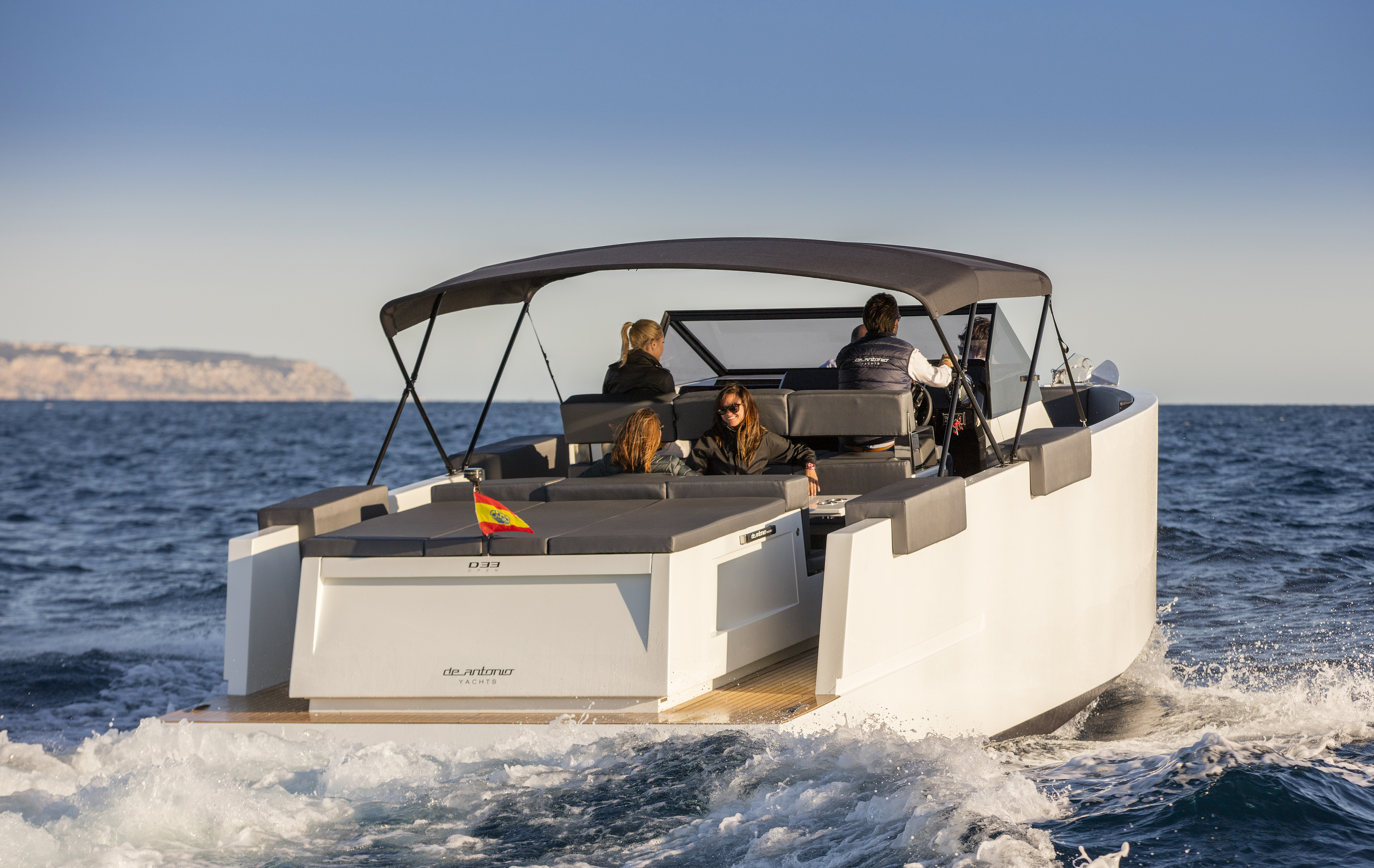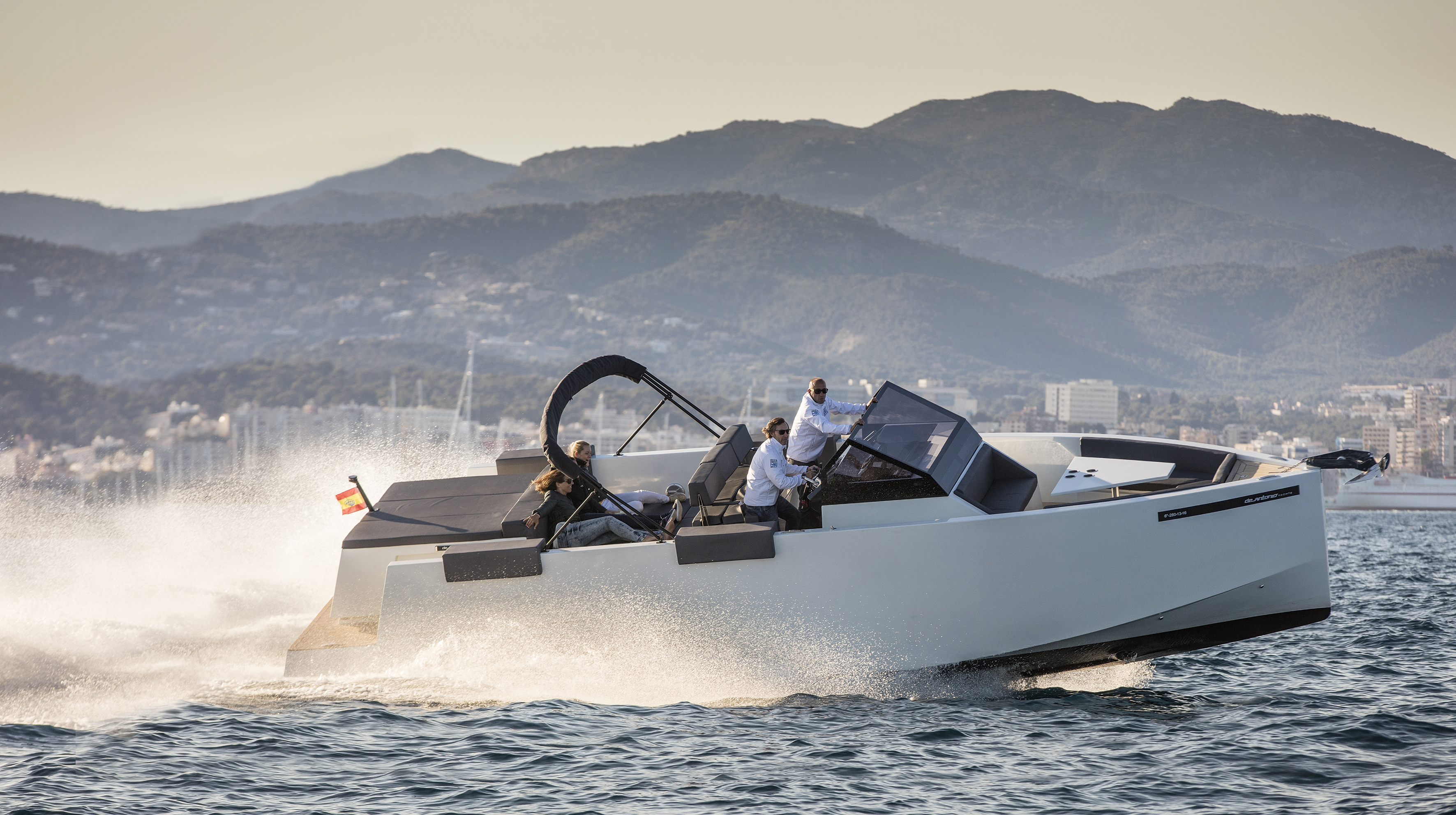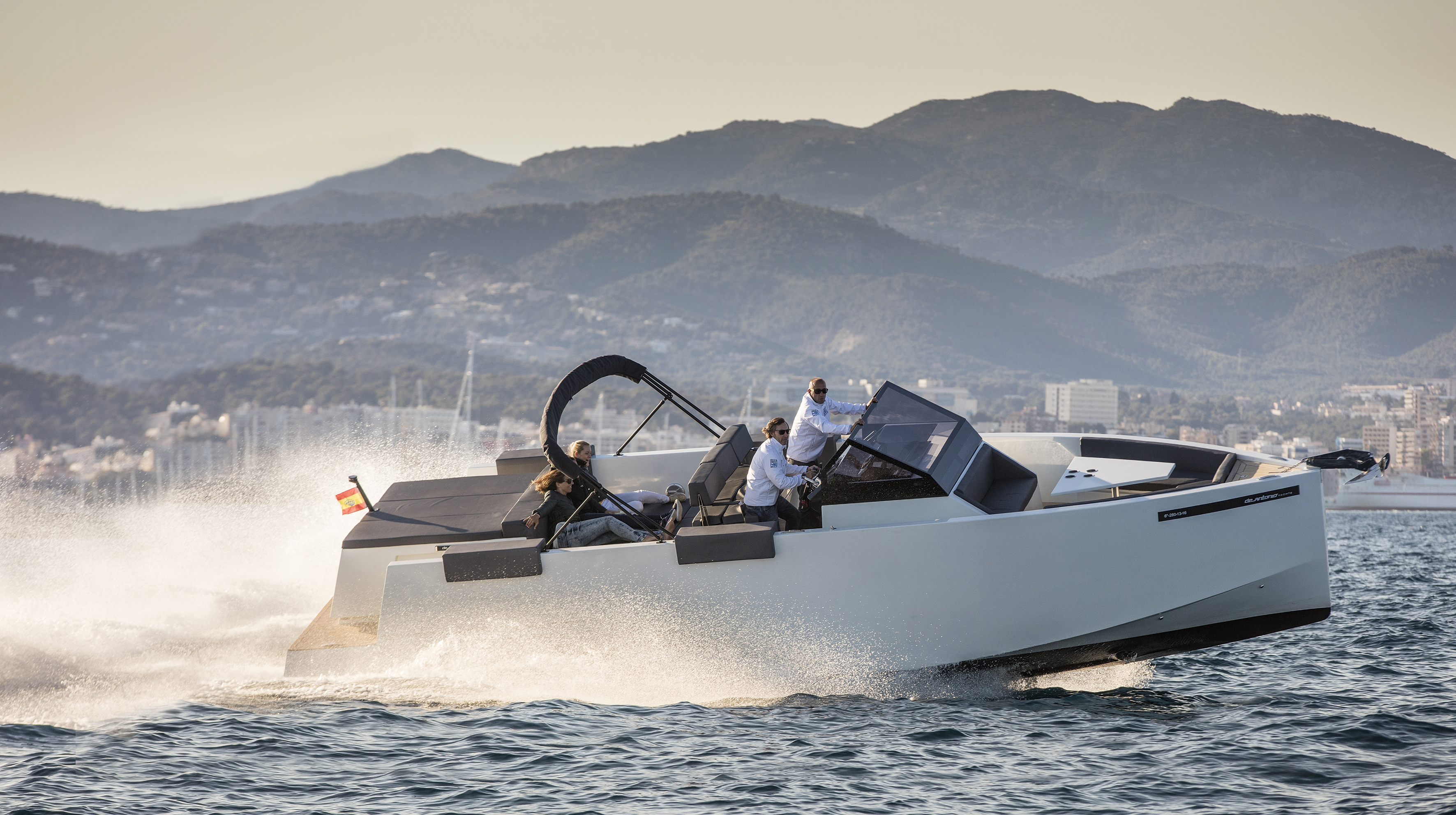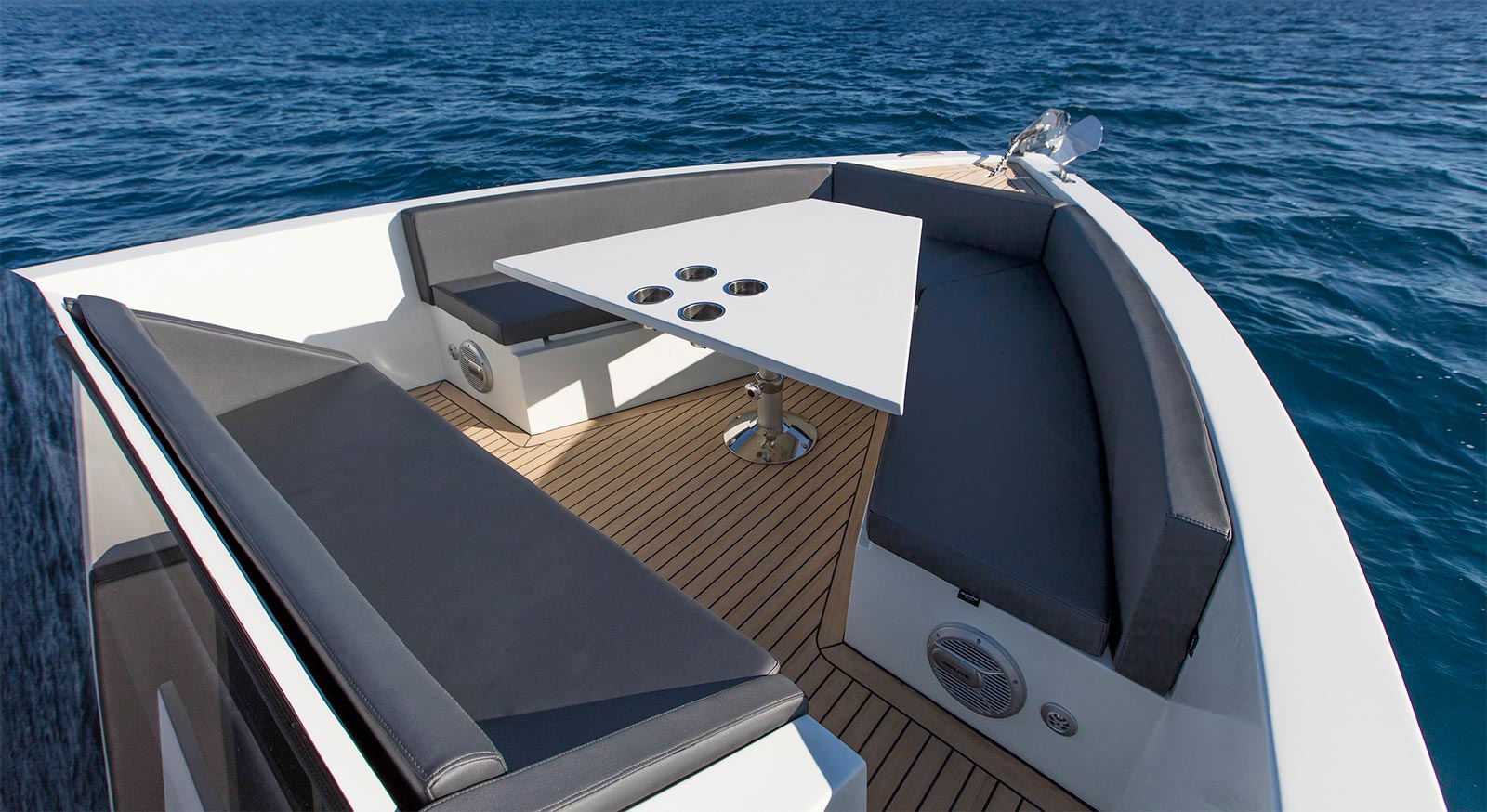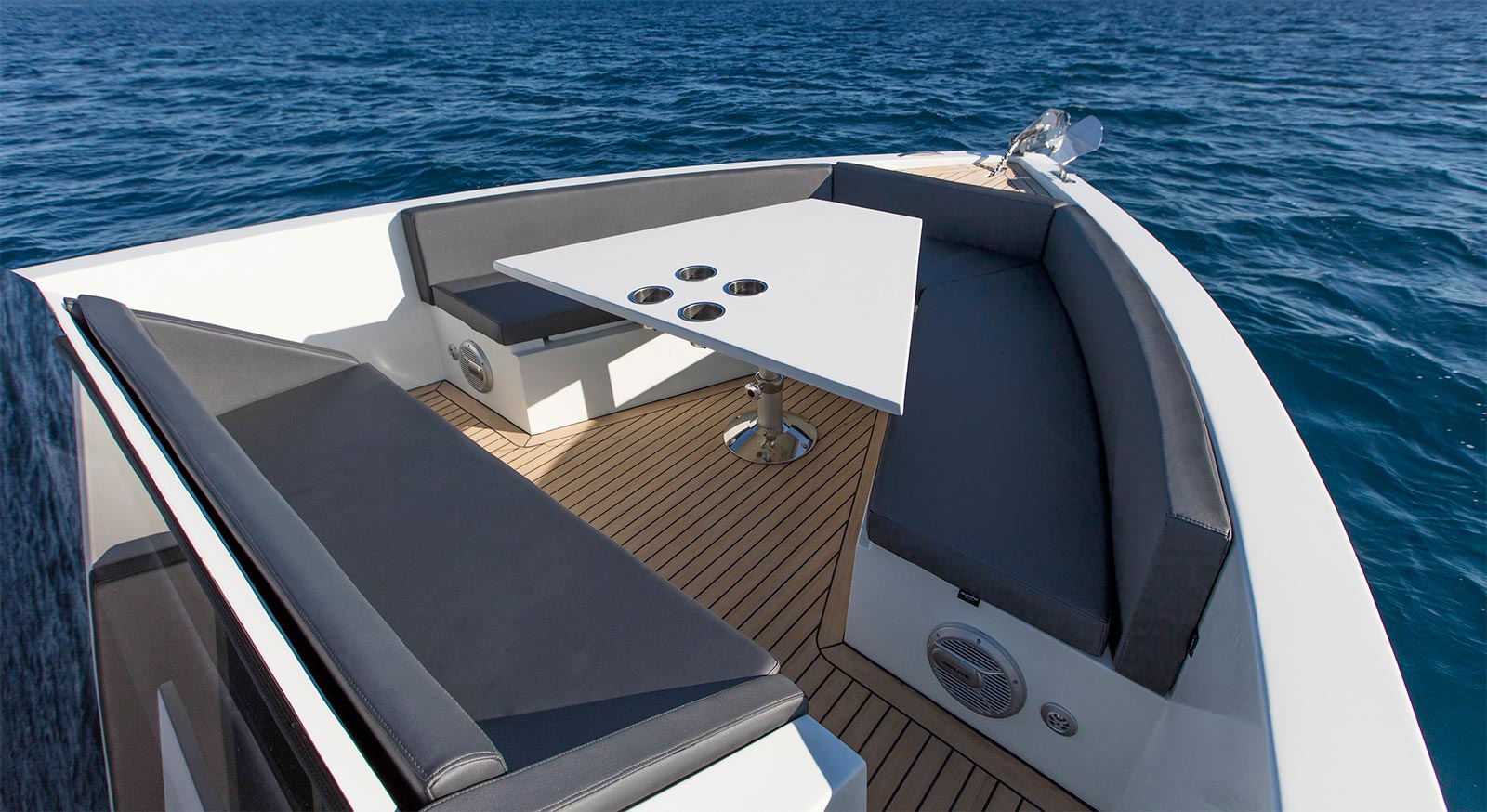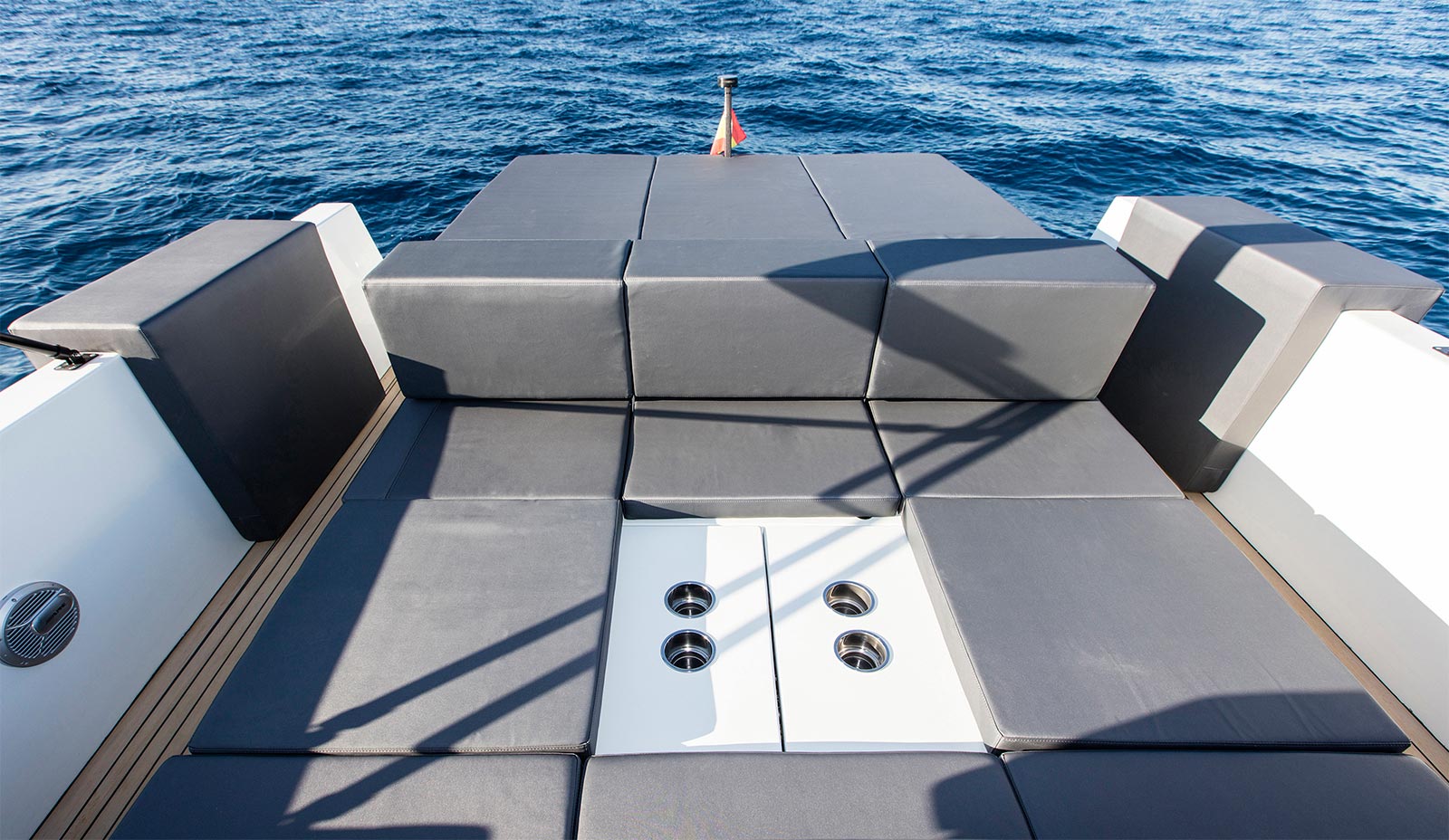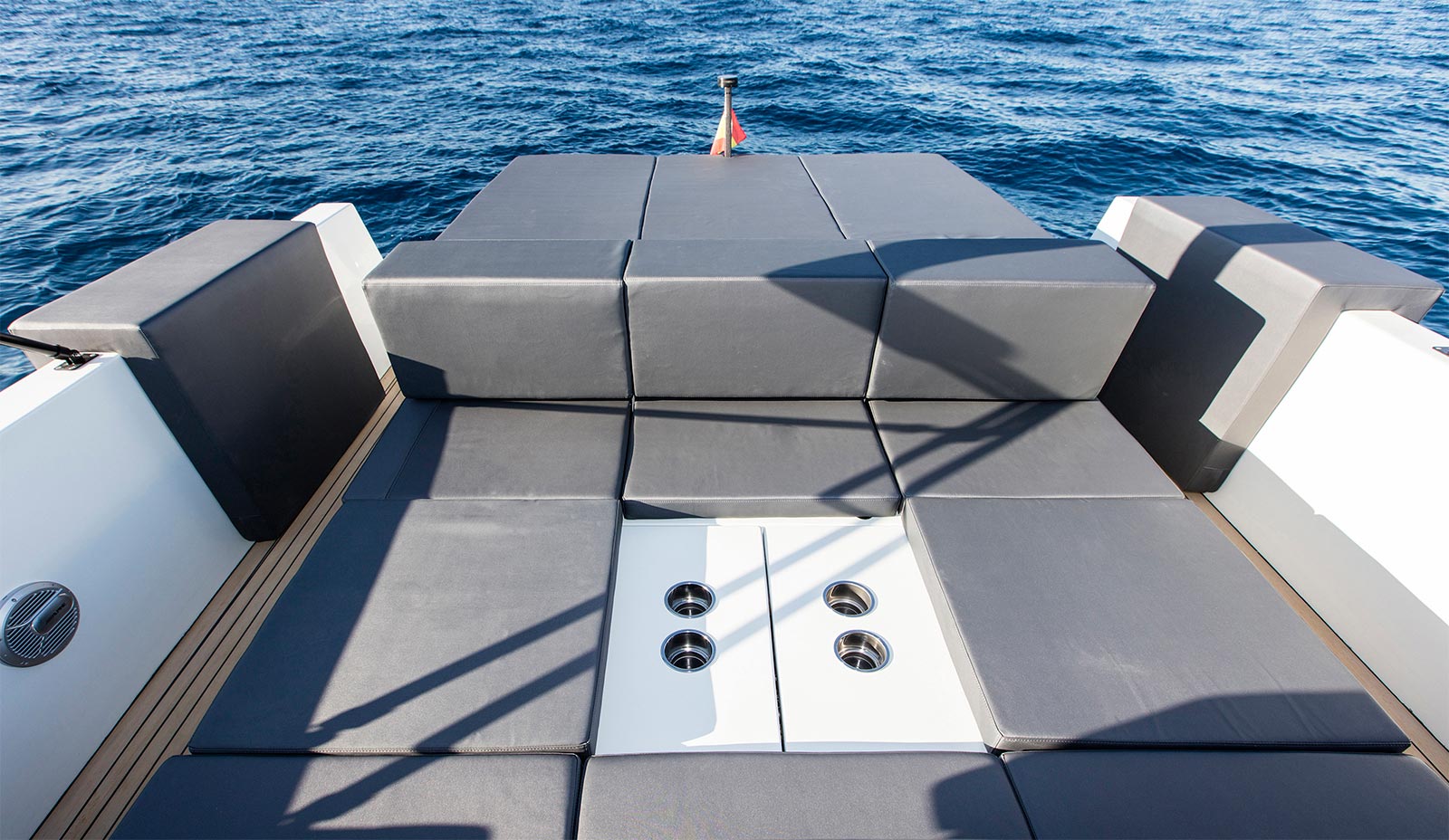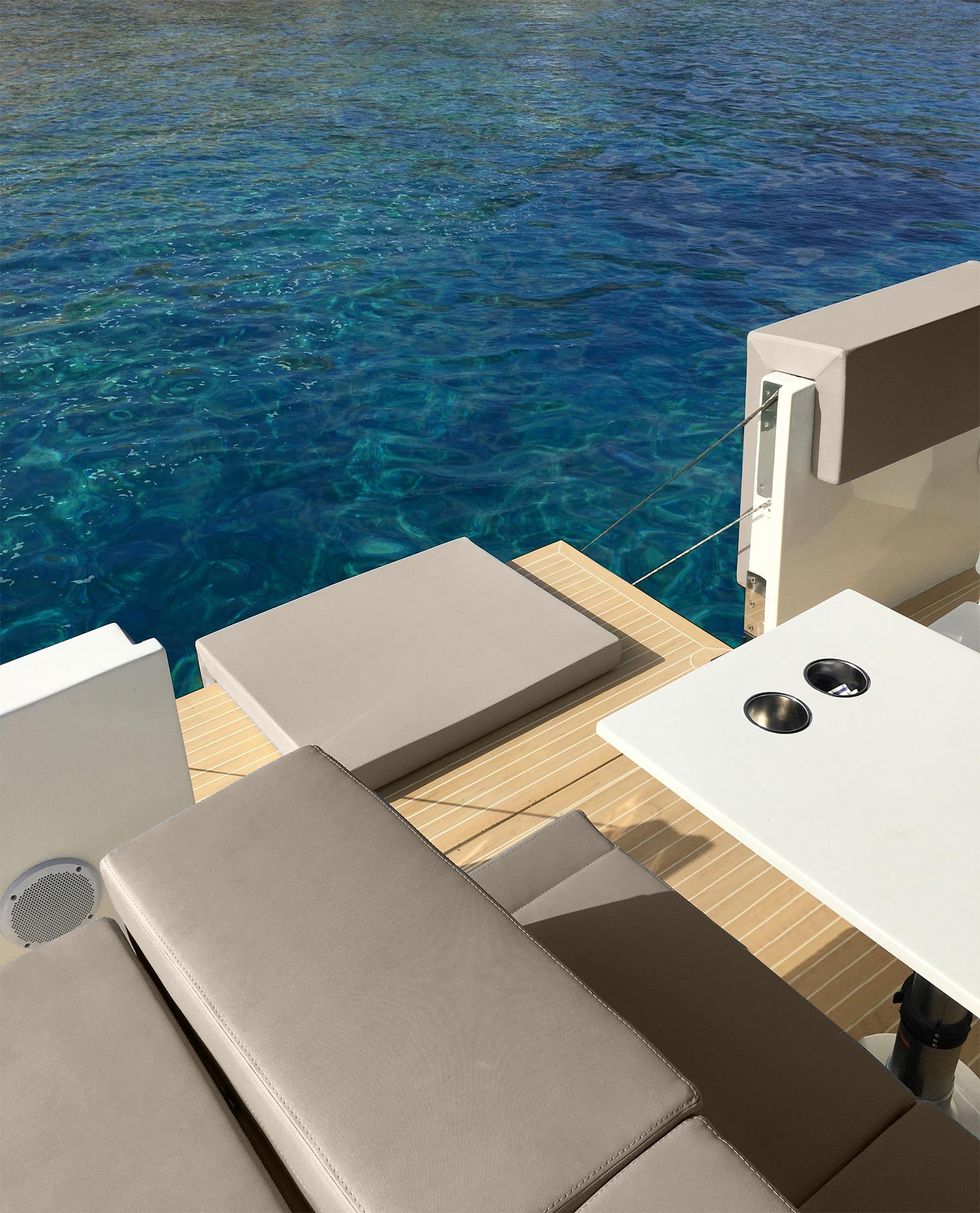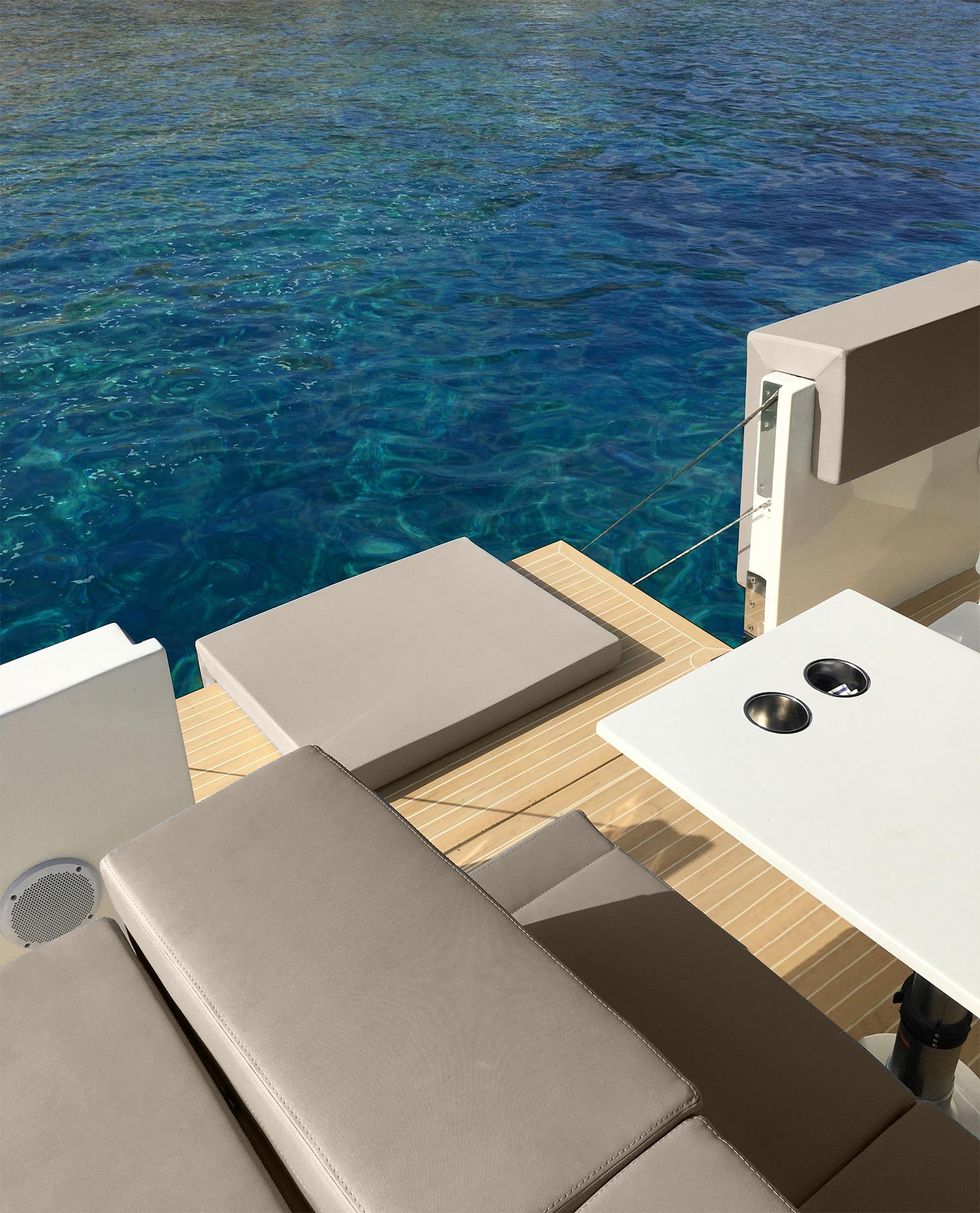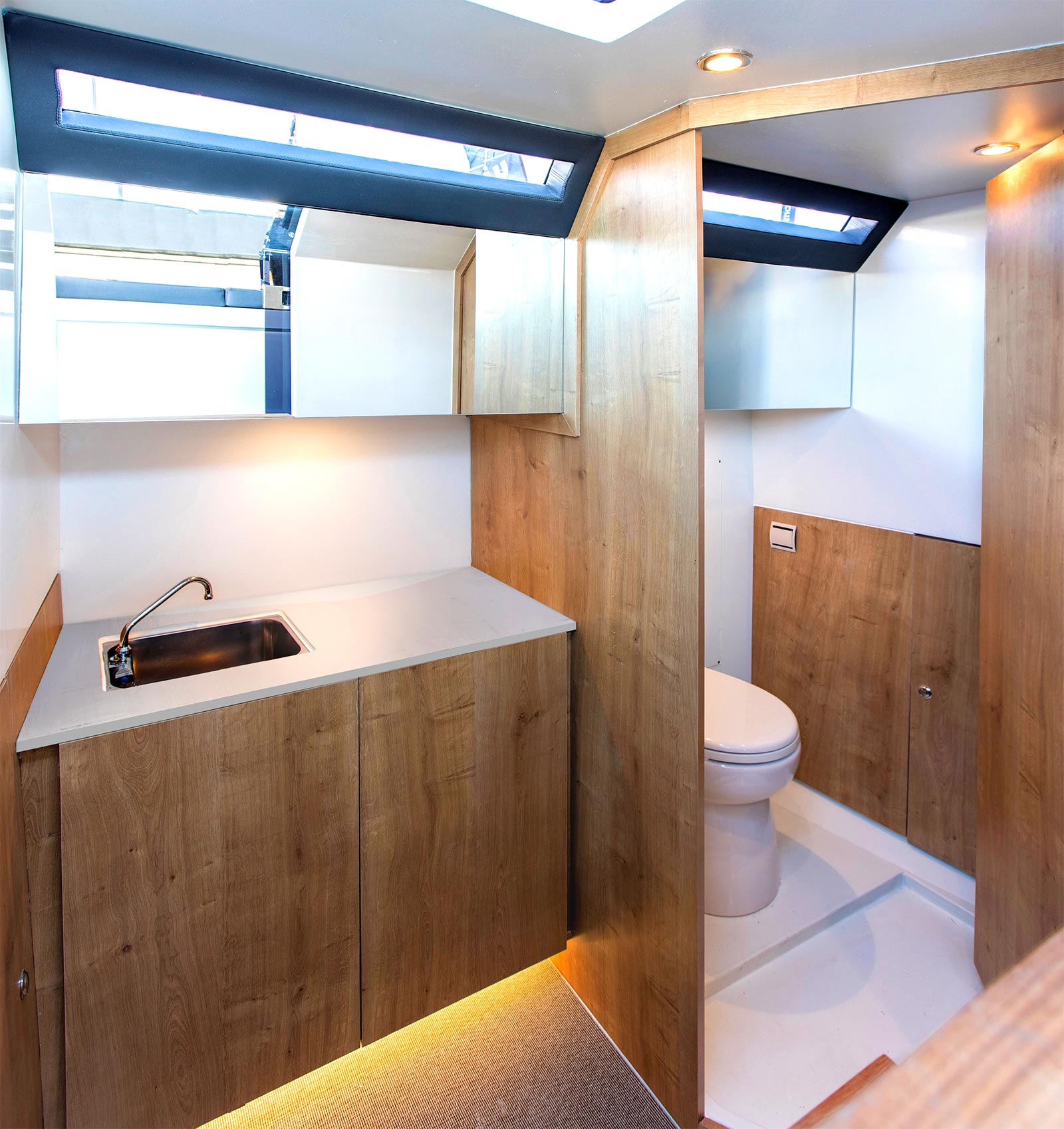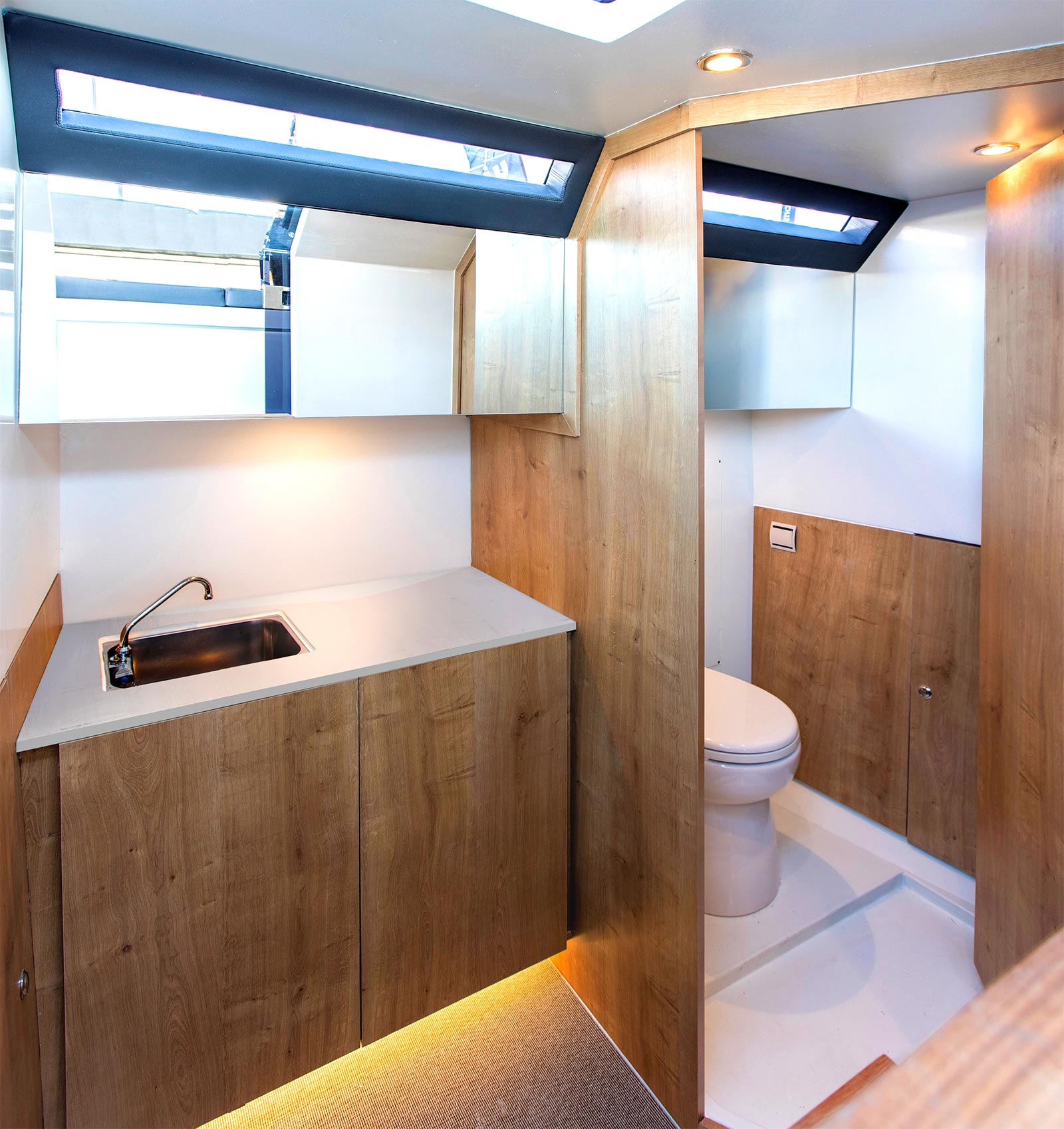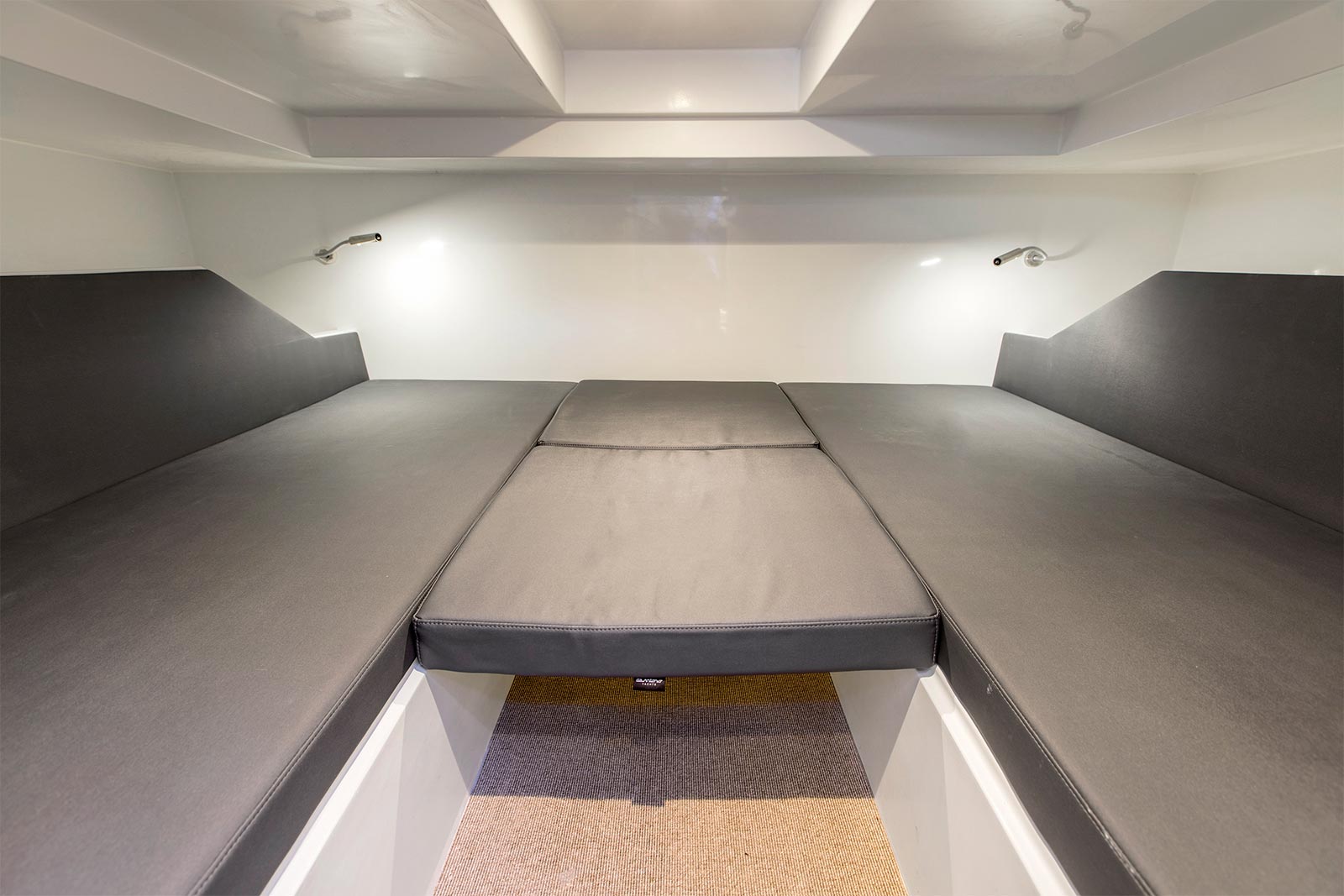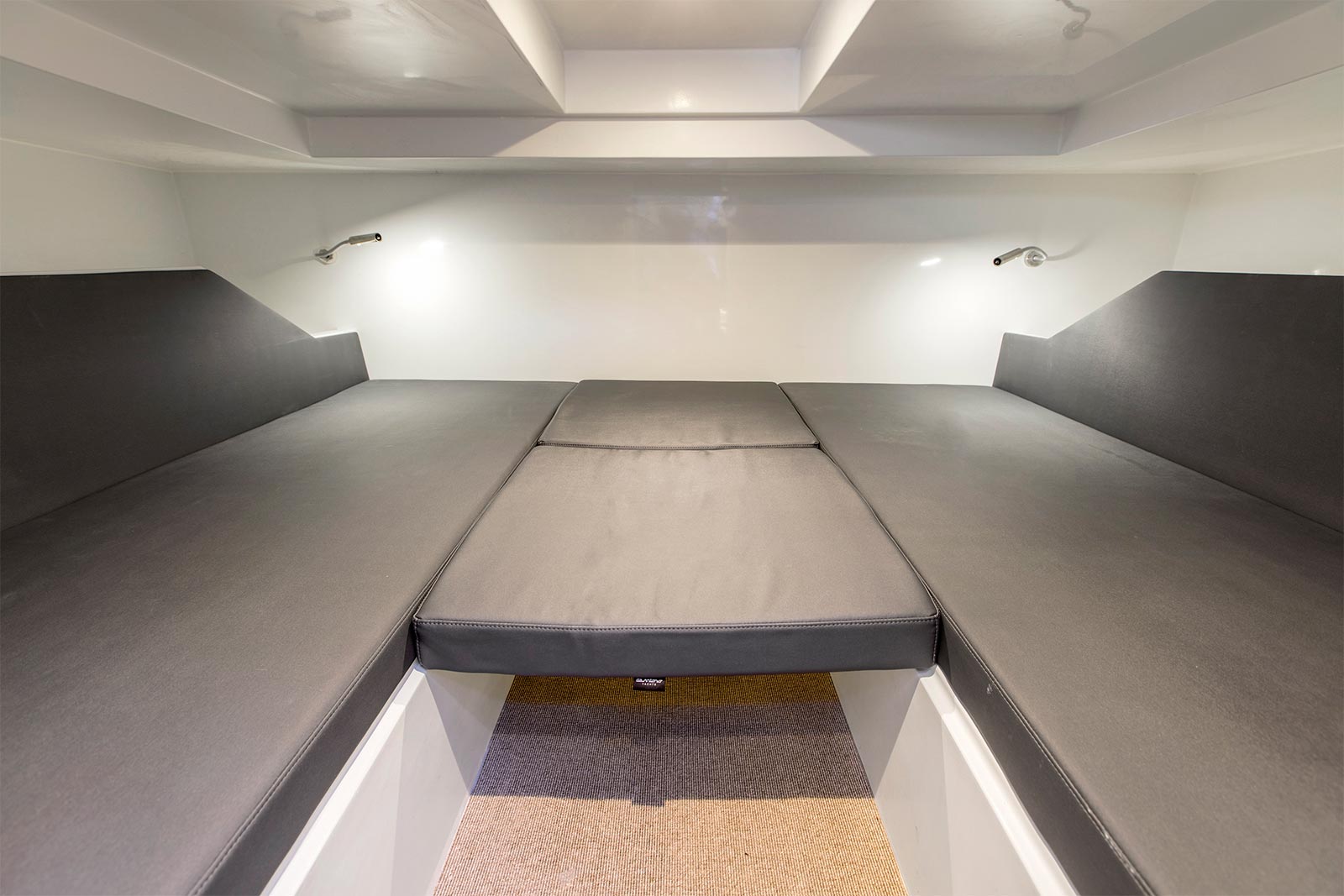 Specs
LENGTH 10,30m
BEAM 3,40m
DEPTH 0,60m
HULL GRP
WEIGHT 4,5 T
FUEL TANK 580L
WATER TANK 250L
PASSENGERS 12
CABINS 1
BATHROOMS 1
MIN POWER 450hp
MAX POWER 800hp
CRUISING SPEED 27 Kts*
MAX SPEED 45 Kts*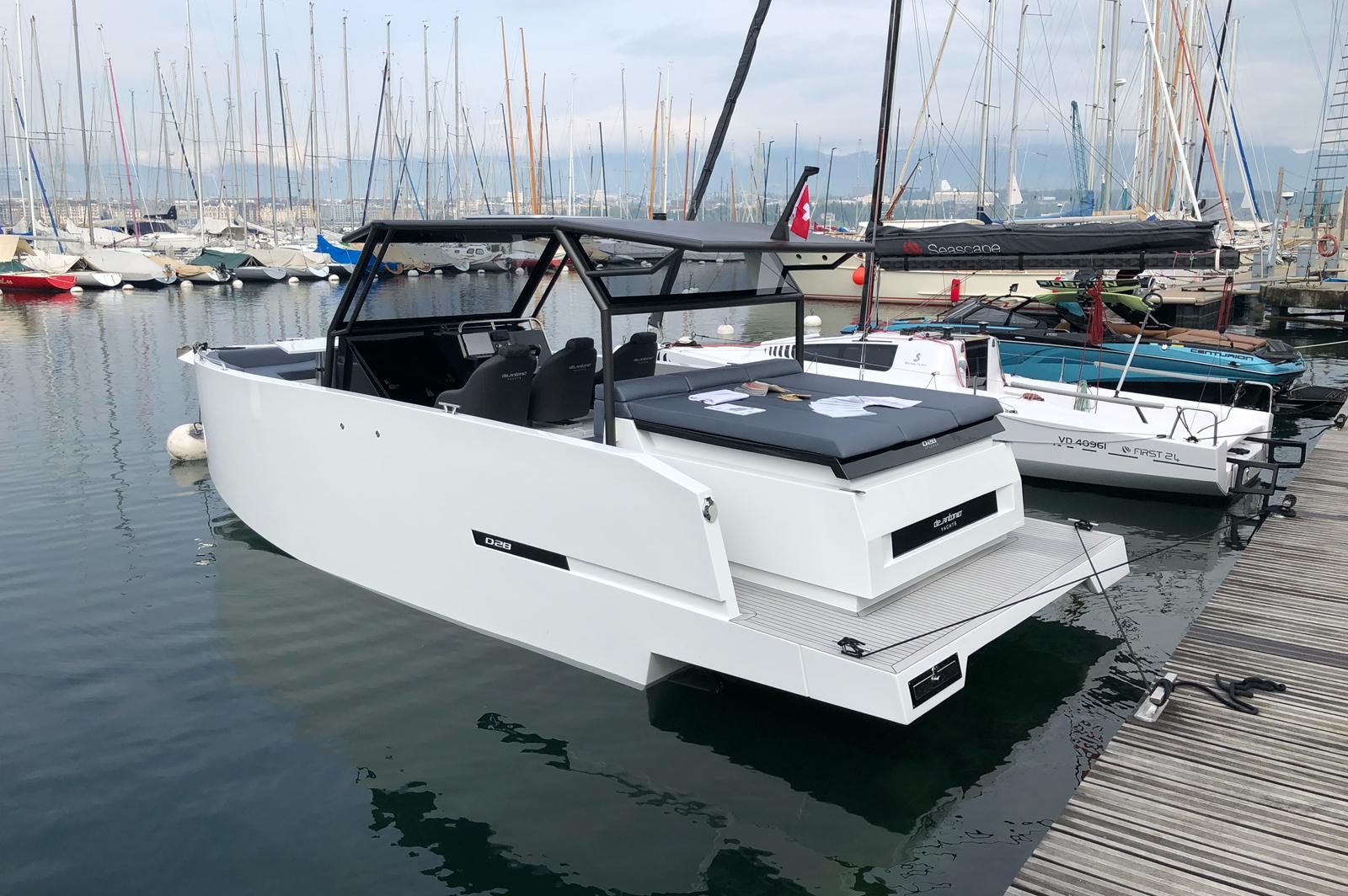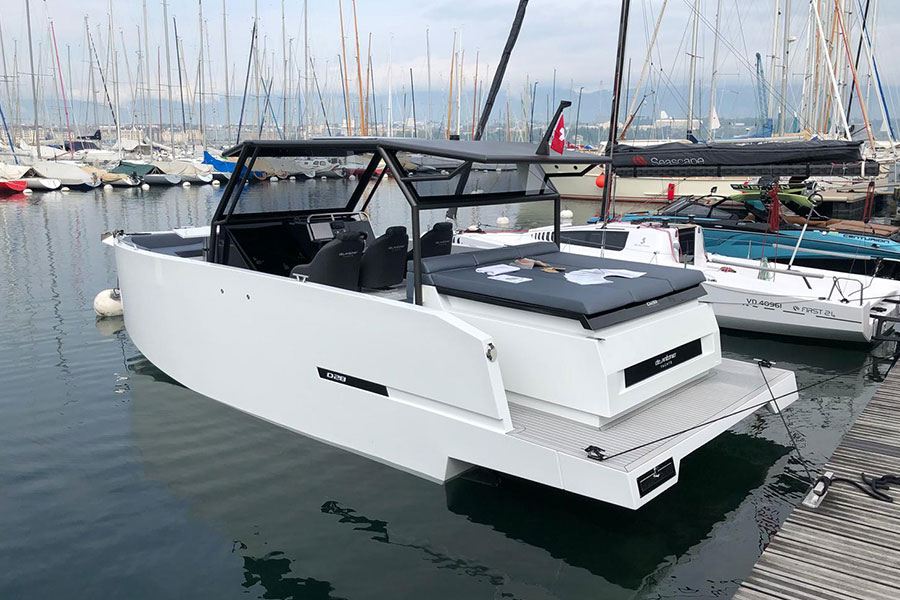 D28 Xplorer
Design and heritage
The De Antonio Yachts D28 follows the philosophy of its successful predecessors, the D23 and D33 models, gathering the best features of each and completing the range of the brand. It is a 7.99 meters length motor boat, with the possibility of adding a fifty centimeters stern bathing platform. The exterior design is distinguished by an imposing center console in black finishes that gives it a sporty and elegant style in the wheelhouse, in addition, to having a complete bathroom.
​
Maximum comfort, exceptional performance
The design of its V shaped hull, allows gliding quickly and developing a top speed up to 38 knots with maximum motorization, as well as a highly comfortable navigation at cruising speed. Its generous beam and weight distribution make this boat very stable for anchoring and give a great habitability on deck. The layout of the volumes allows a convenient peripheral circulation with the concept "walk around", with the entire deck at the same level, with different solarium spaces, seats and tables both at bow and stern, with a level of use of space and an incomparable sensation of spaciousness, even at its maximum capacity of up to ten people.
Design and Styling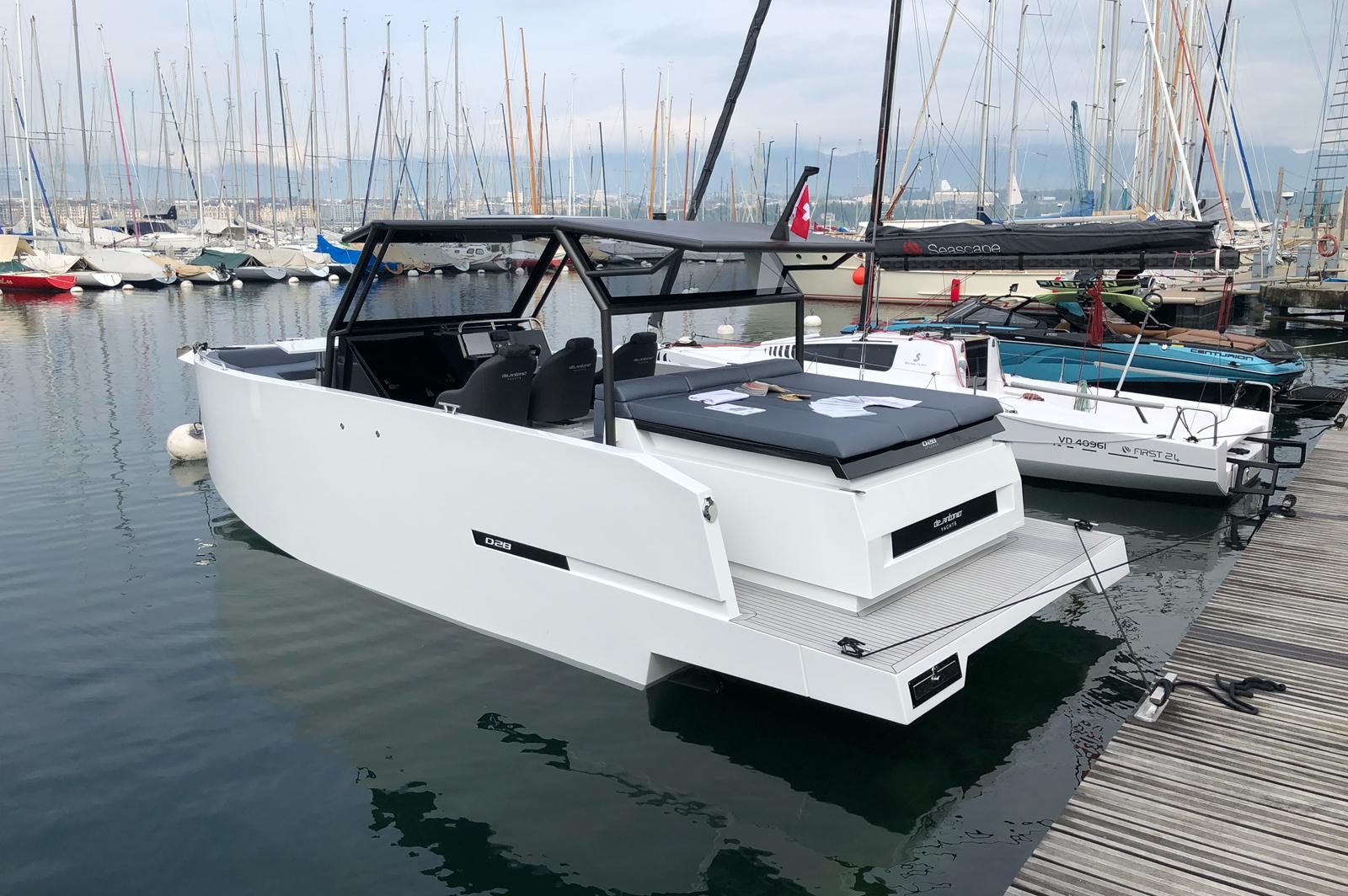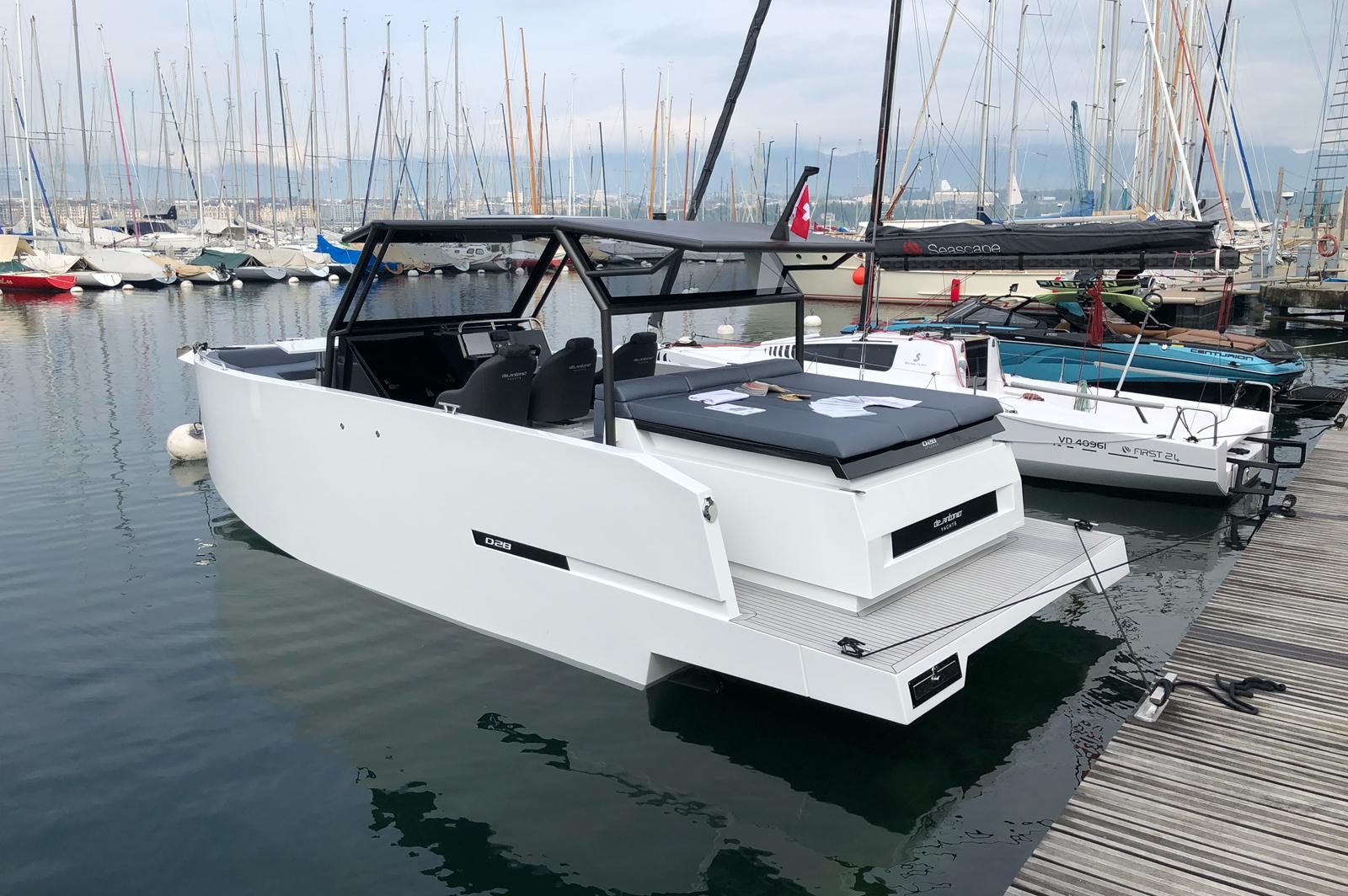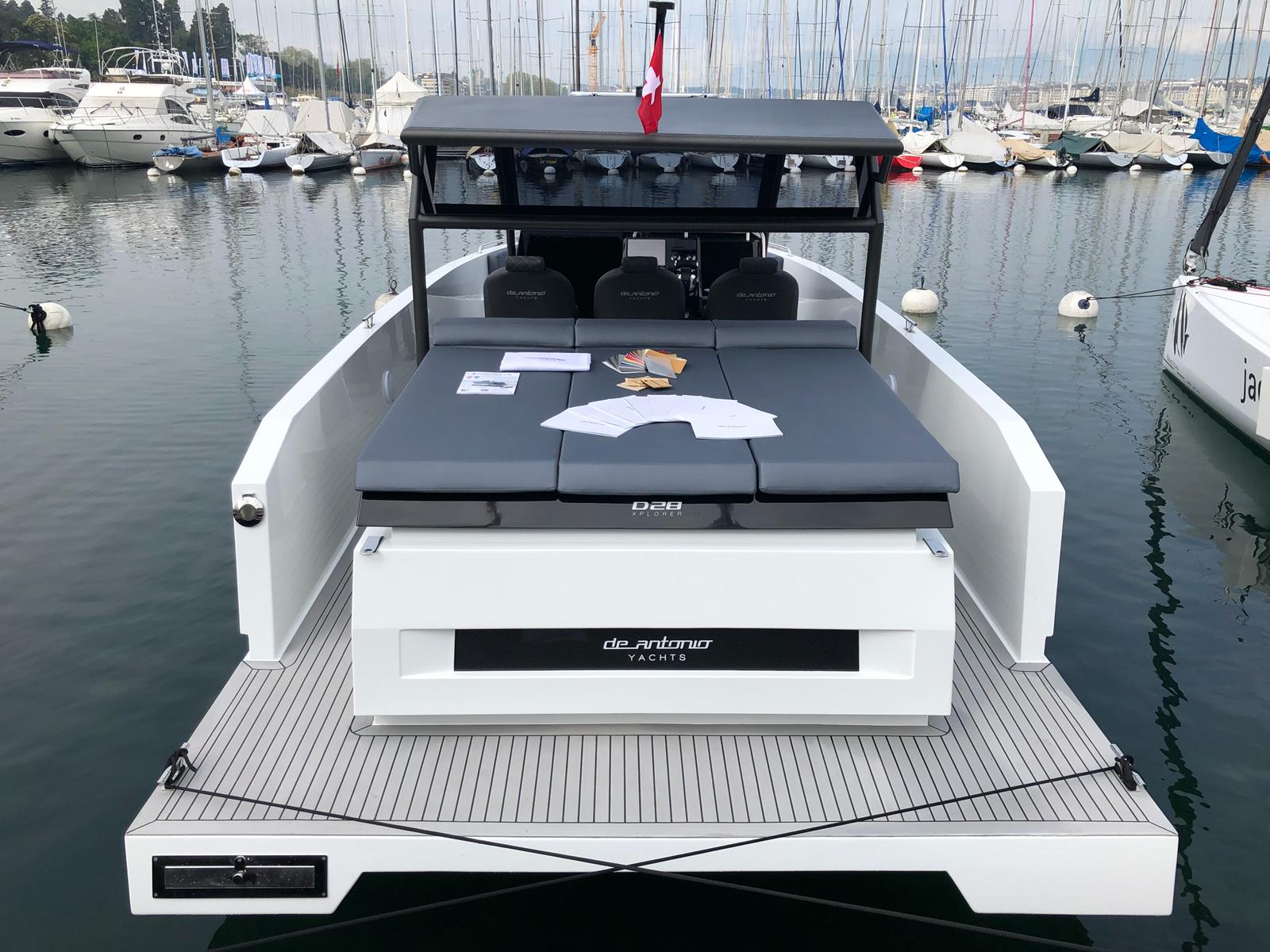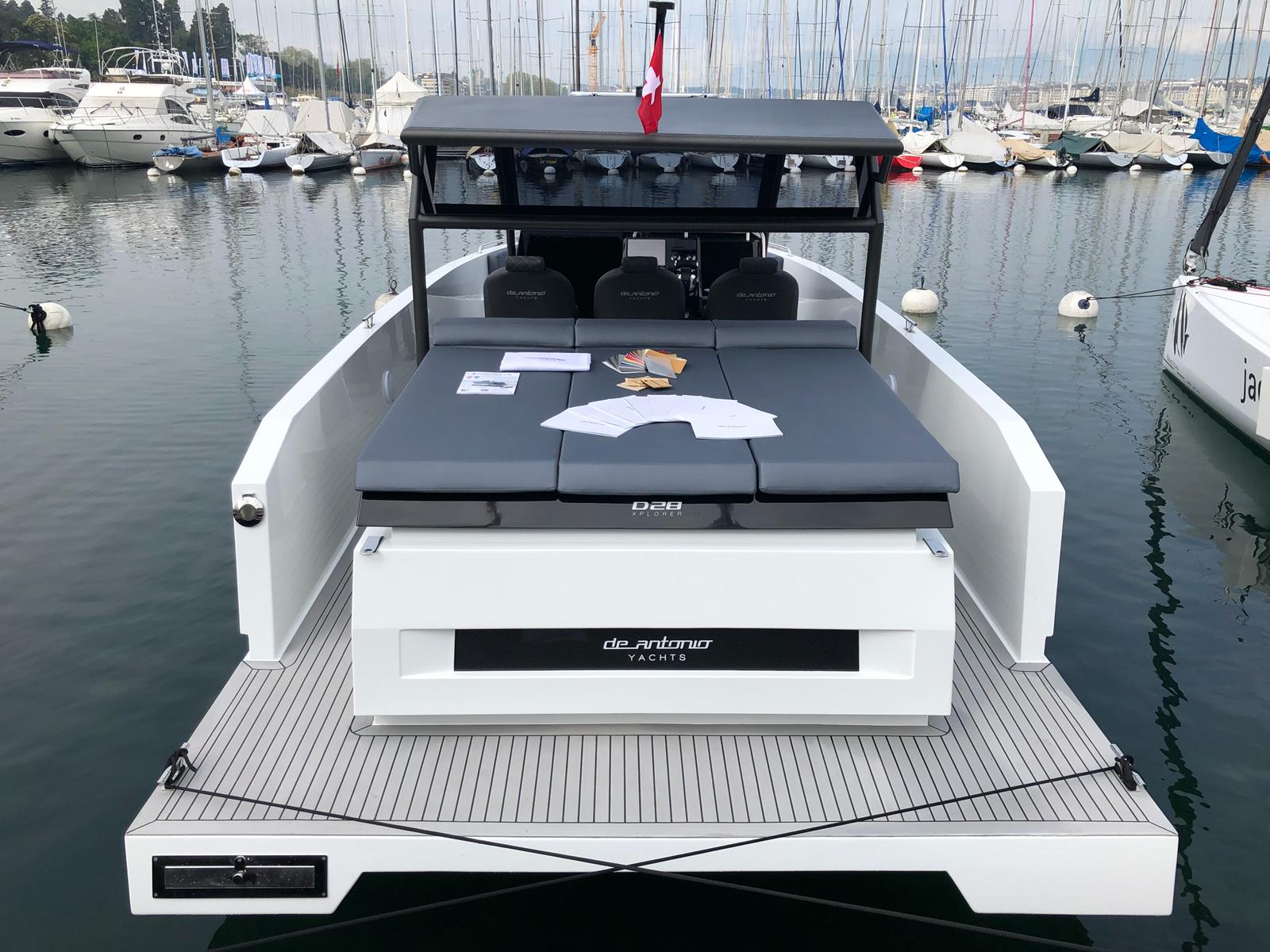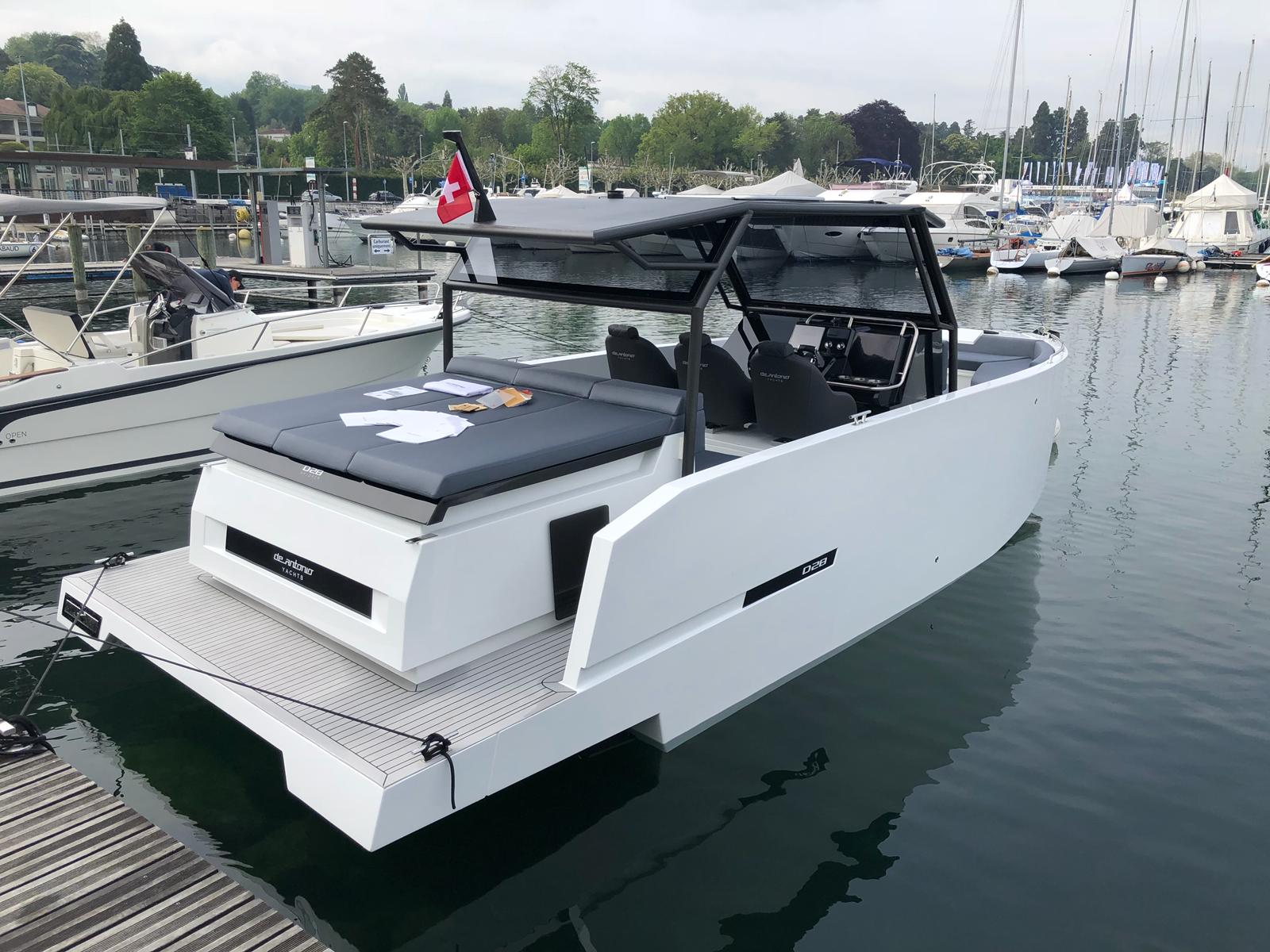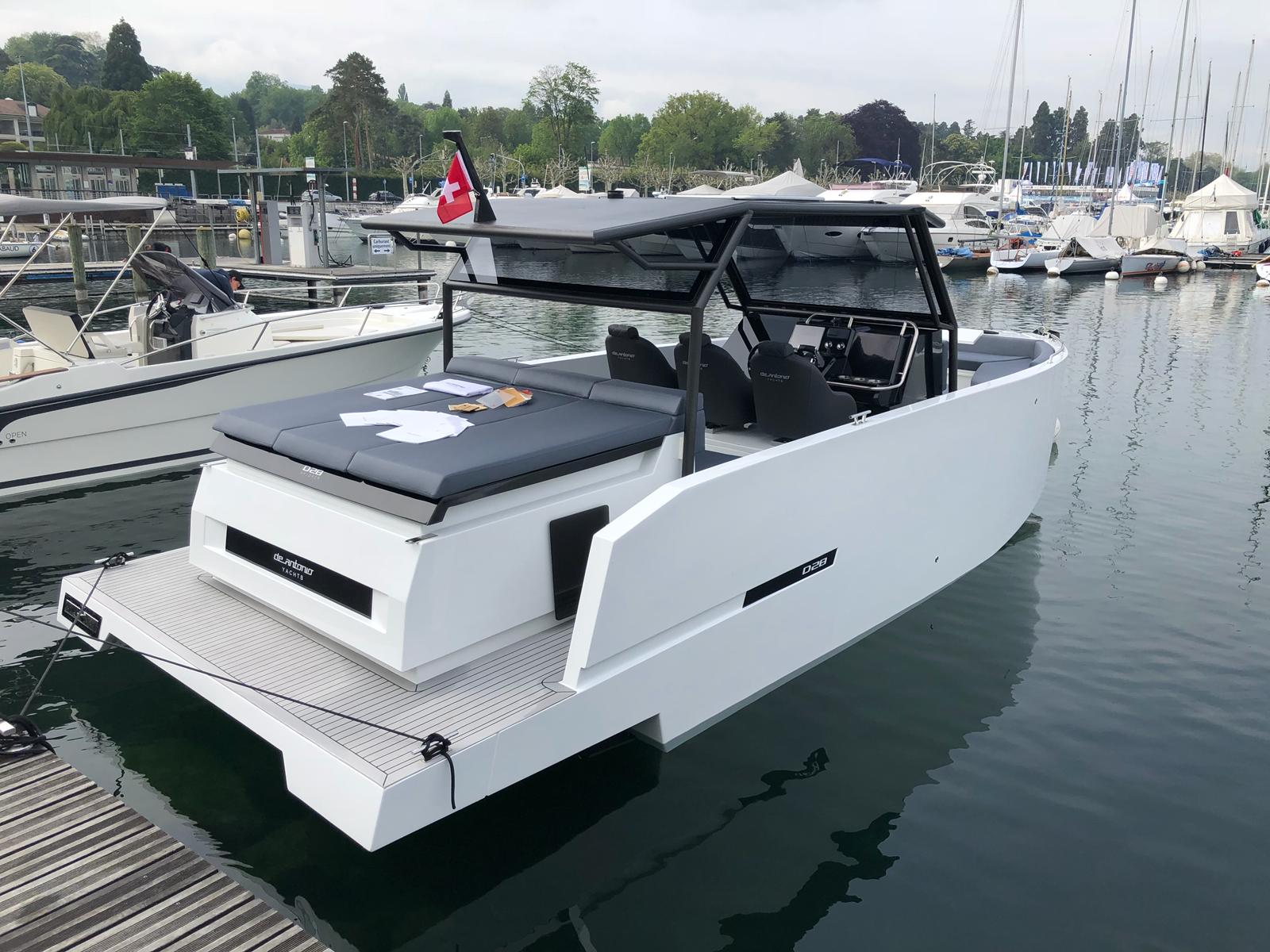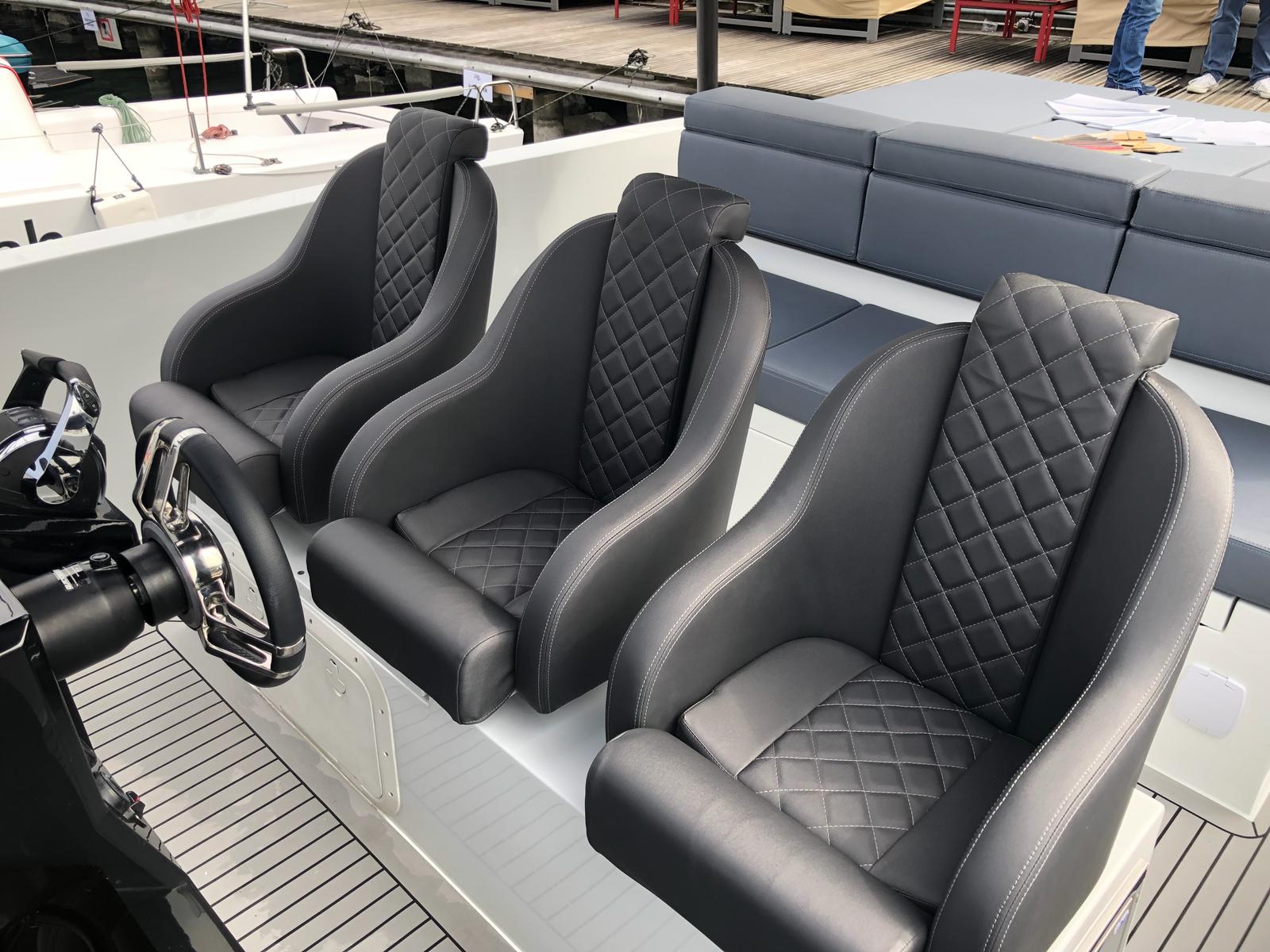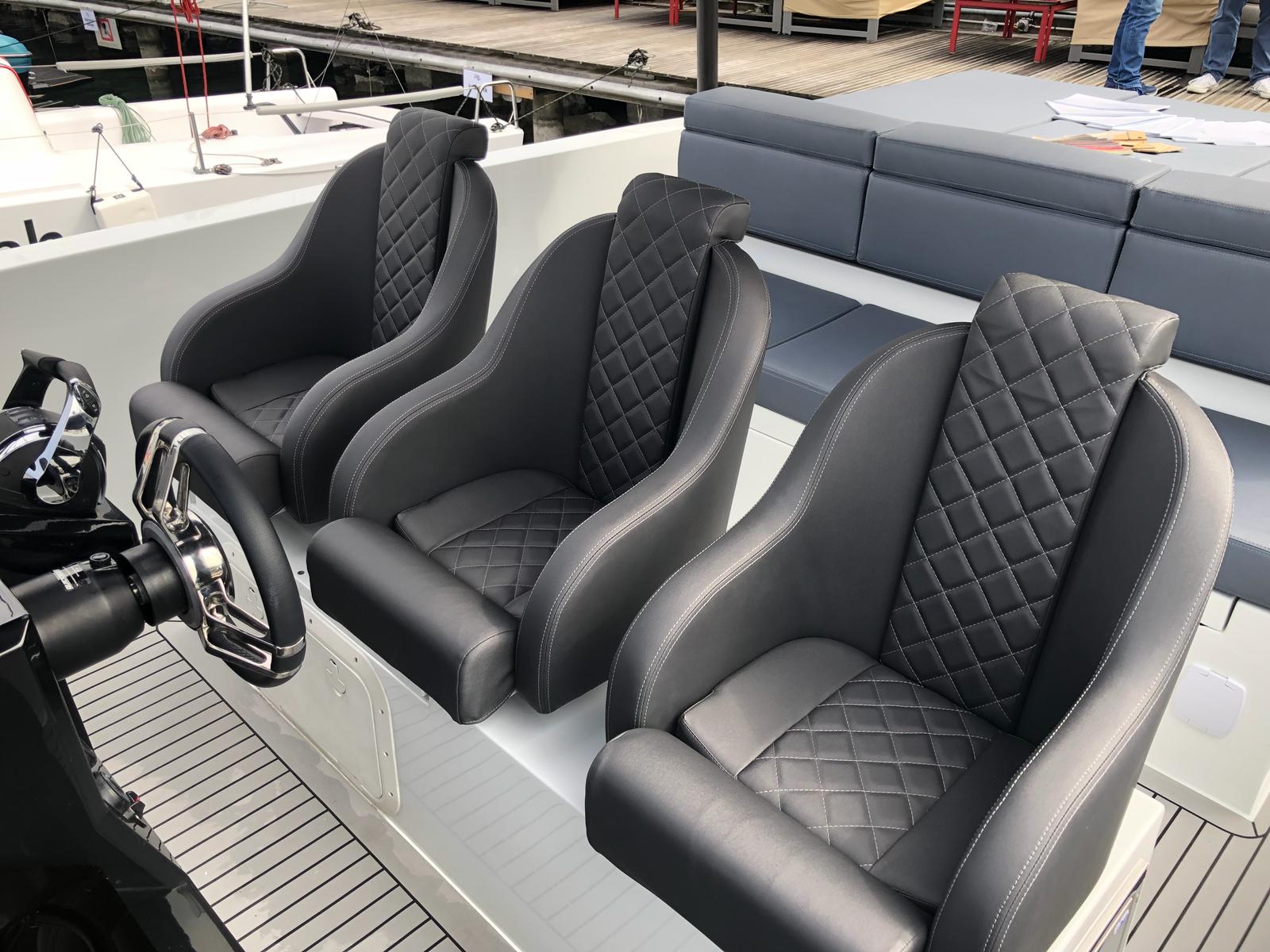 Specs
LENGTH 8,50m
BEAM 2,95m
DEPTH 0,50m
HULL GRP
WEIGHT 2,5 T
FUEL TANK 420L
WATER TANK 70L
PASSENGERS 10
CABINS 0
BATHROOMS 1
MIN POWER 300hp
MAX POWER 400hp
CRUISING SPEED 25 Kts*
MAX SPEED 40 Kts*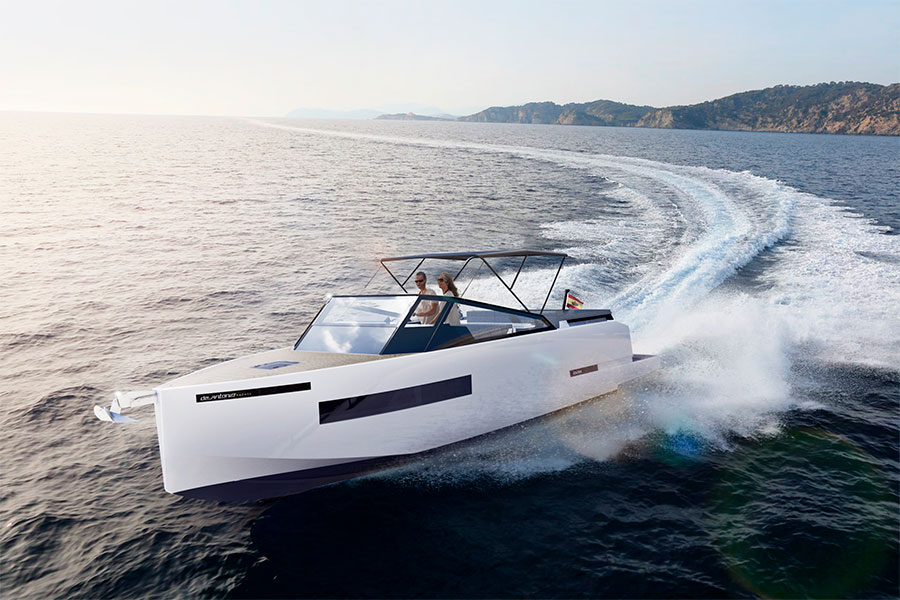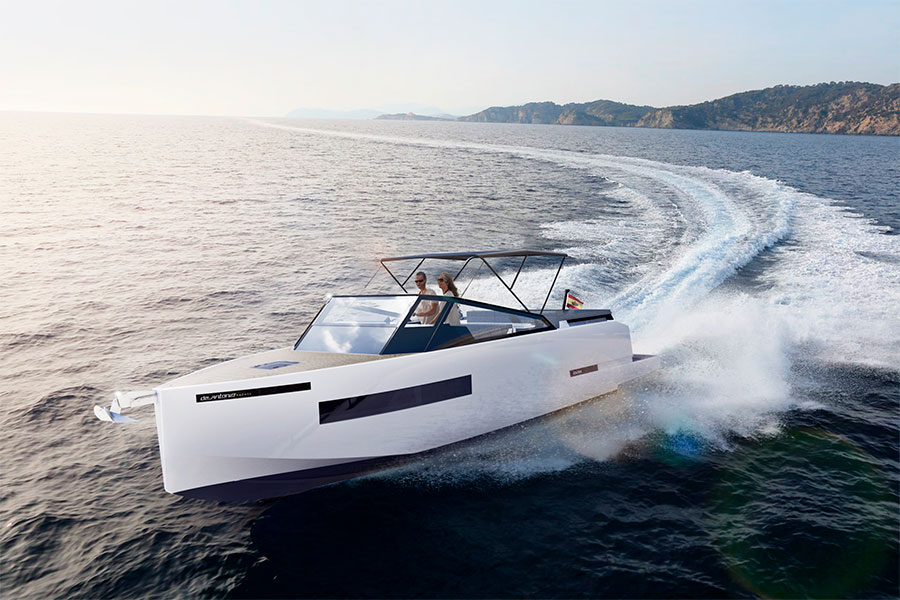 D28 Cruiser
Sporty navigation and comfort
The D28 Cruiser is the cabined version of this length. A boat with the purest DNA of the brand, which emanates sportsmanship while offering a comfortable and wide deck space along with a cozy interior cabin.
A wide safe space for all
A family boat, which thanks to its evolving windshield protects the occupants from the wind without renouncing the walkaround deck with a stern bathing platform.
High performance with low maintenance
Its motorization with hidden outboard in both mono or twin-engine version gives it unmatched performance with low maintenance.What more could you want? The D28 Cruiser has it all!
Design and Styling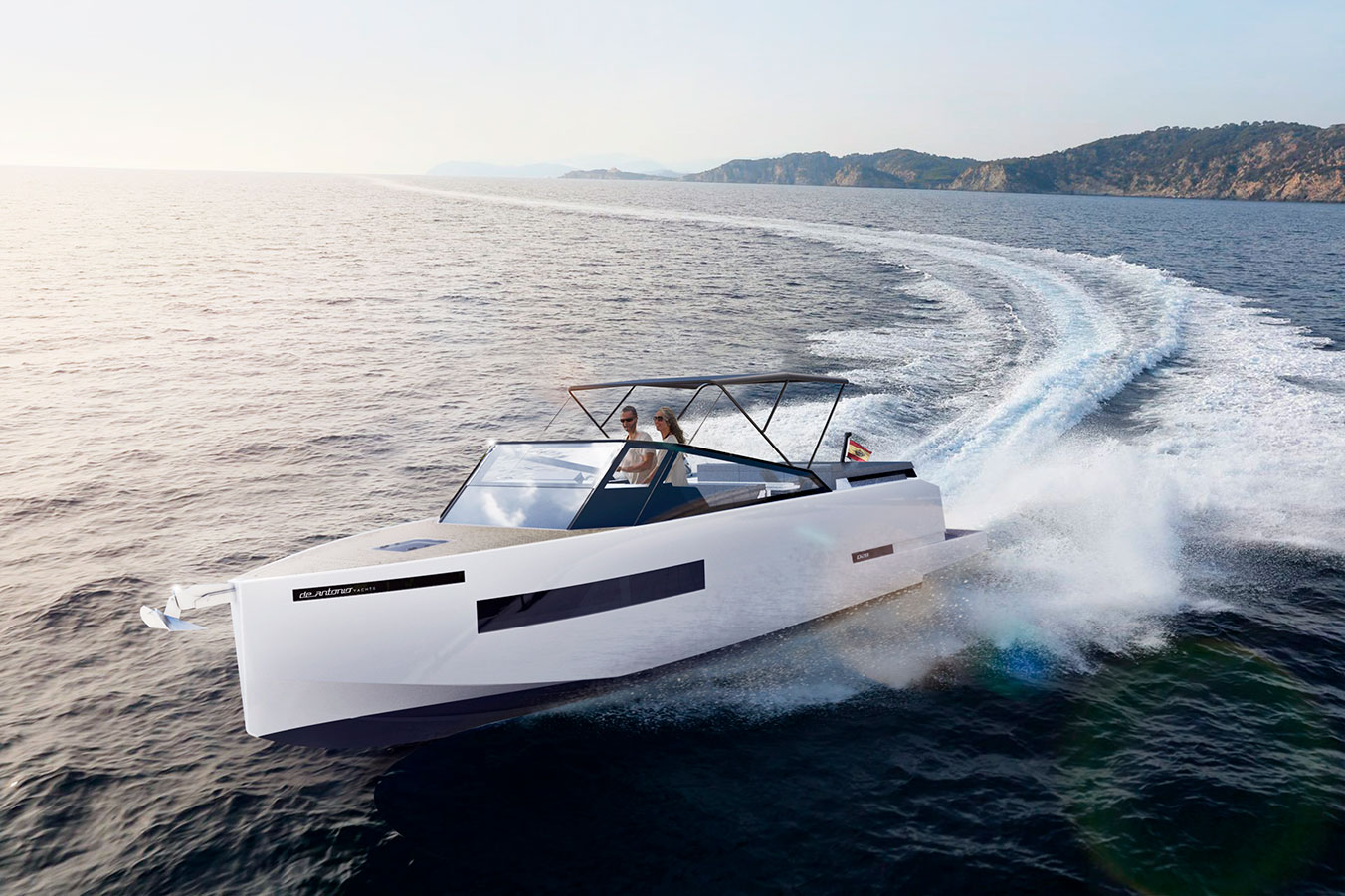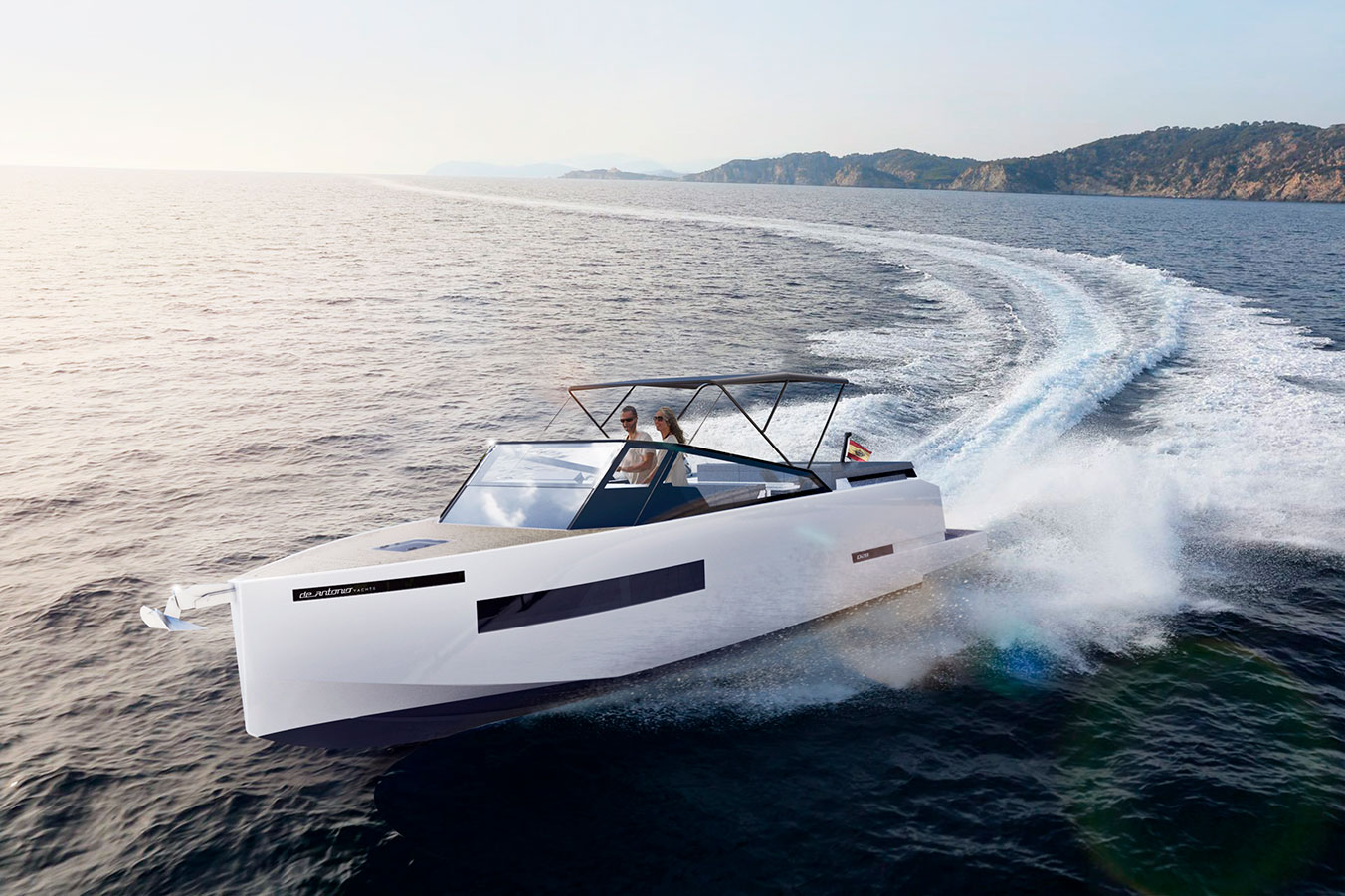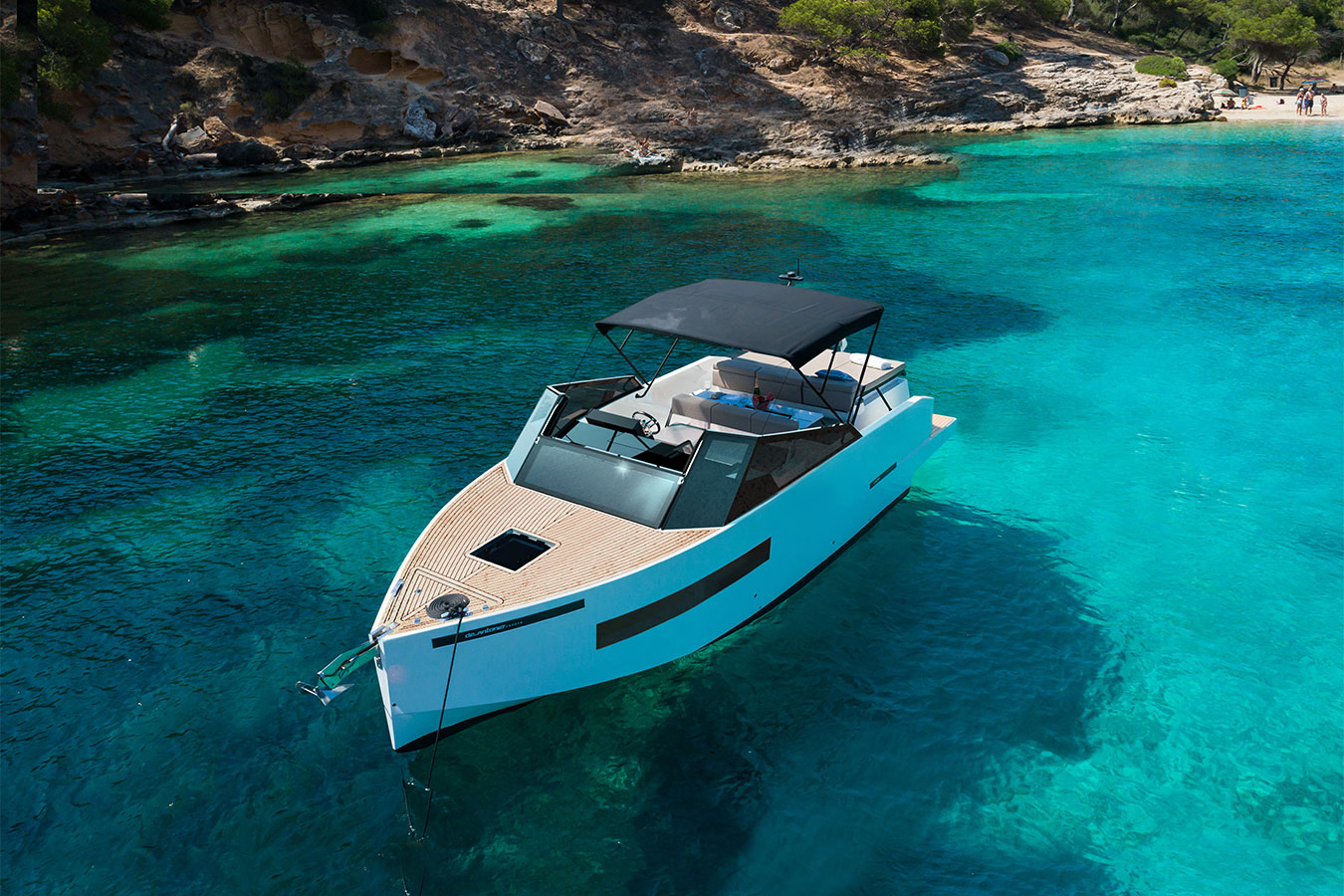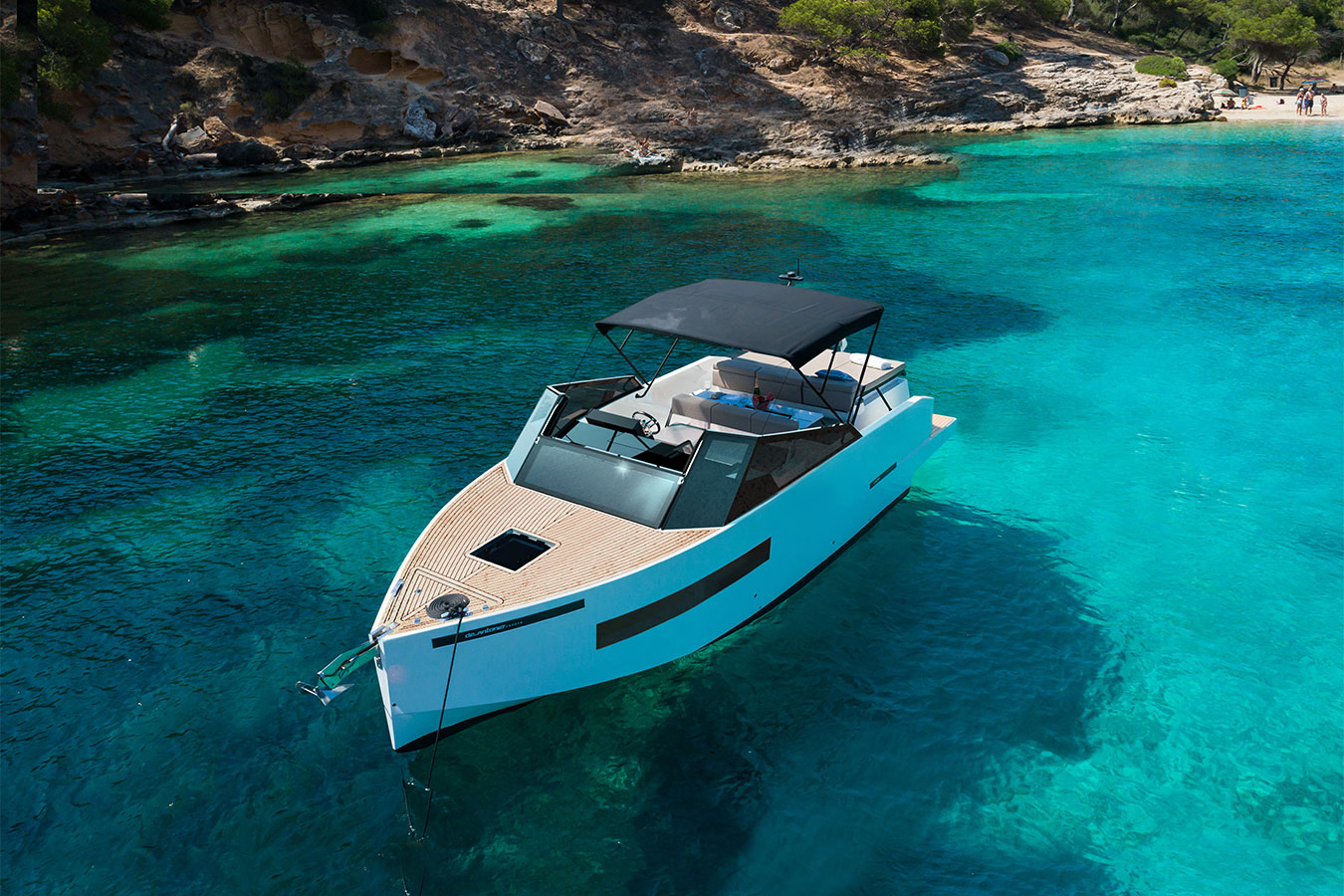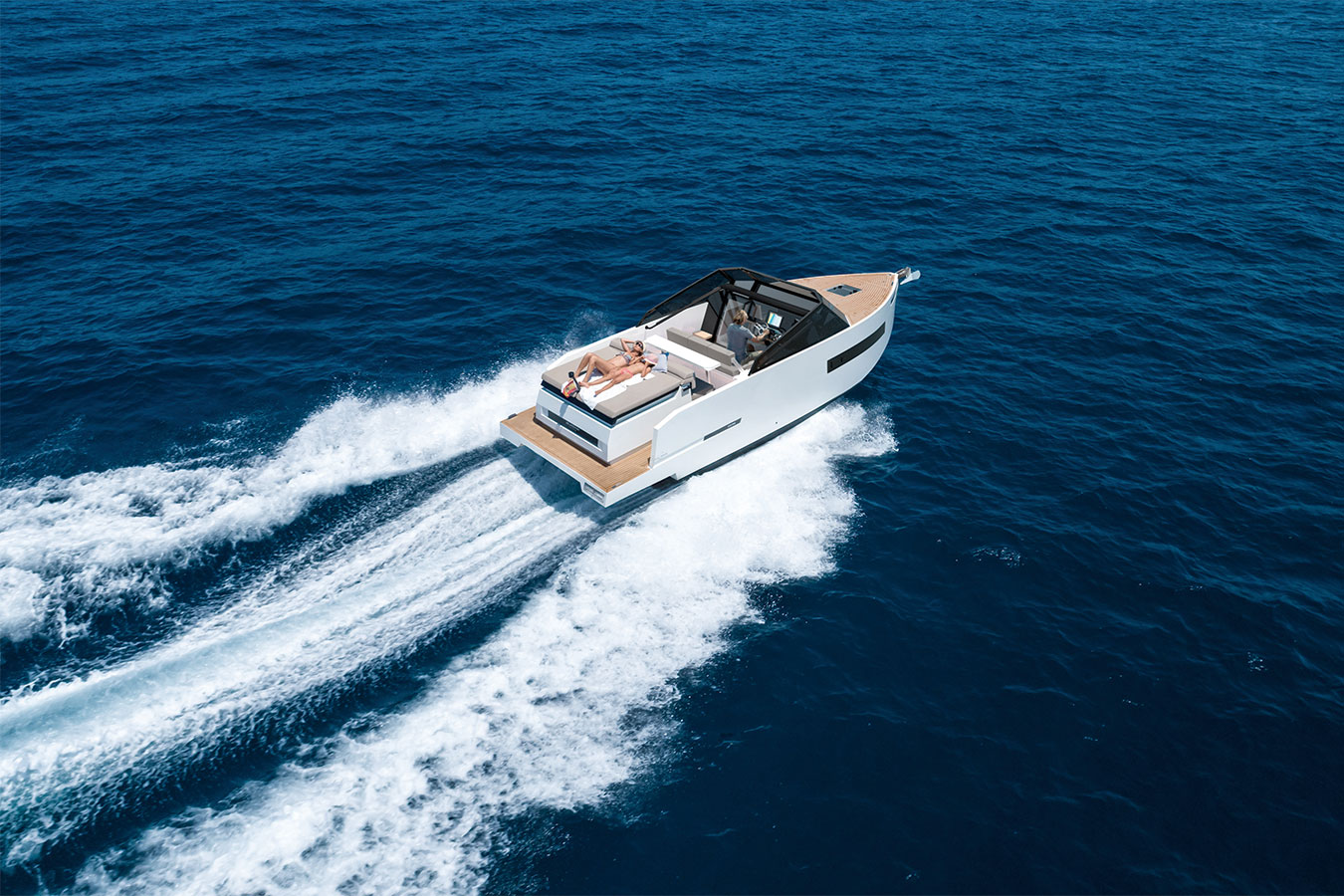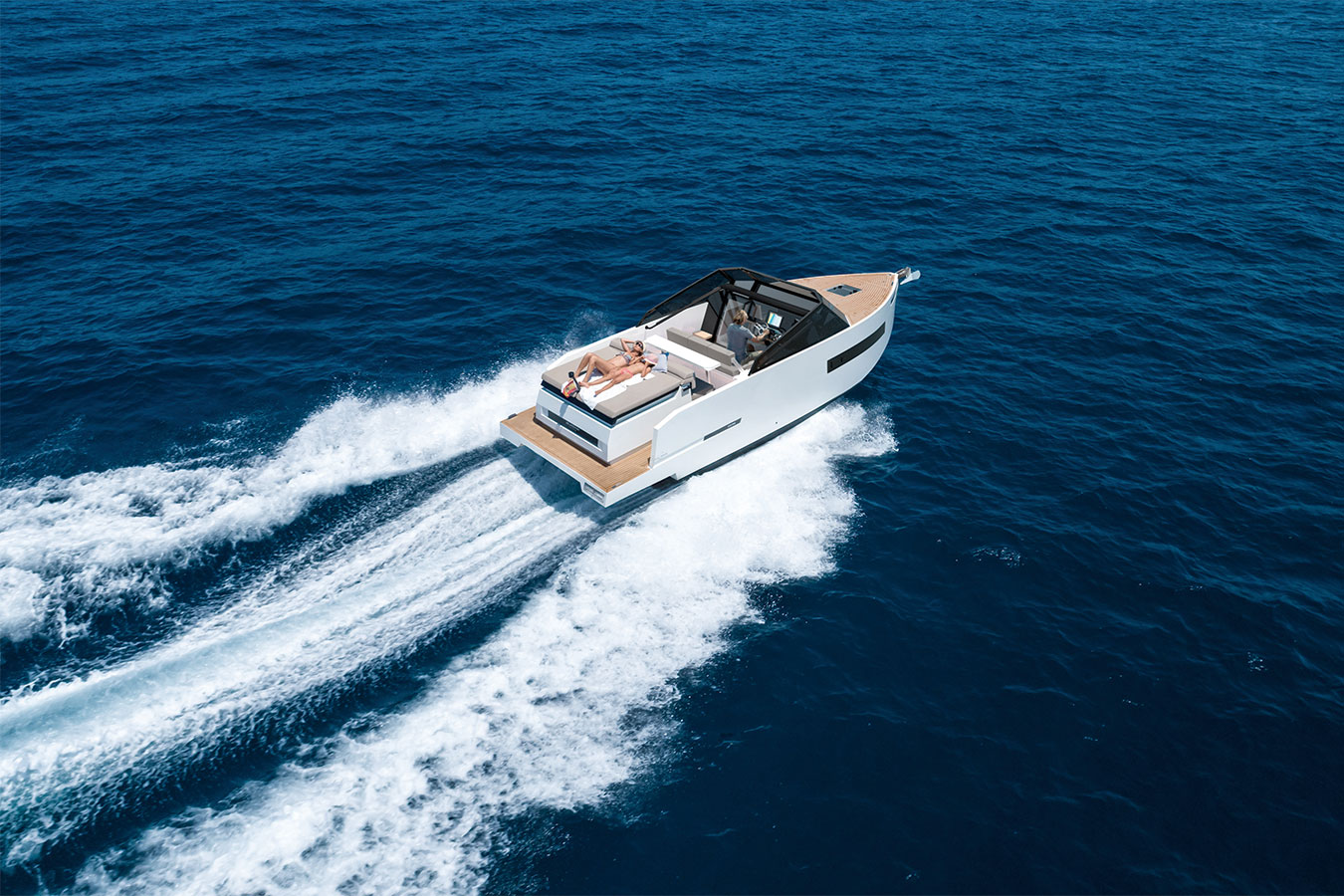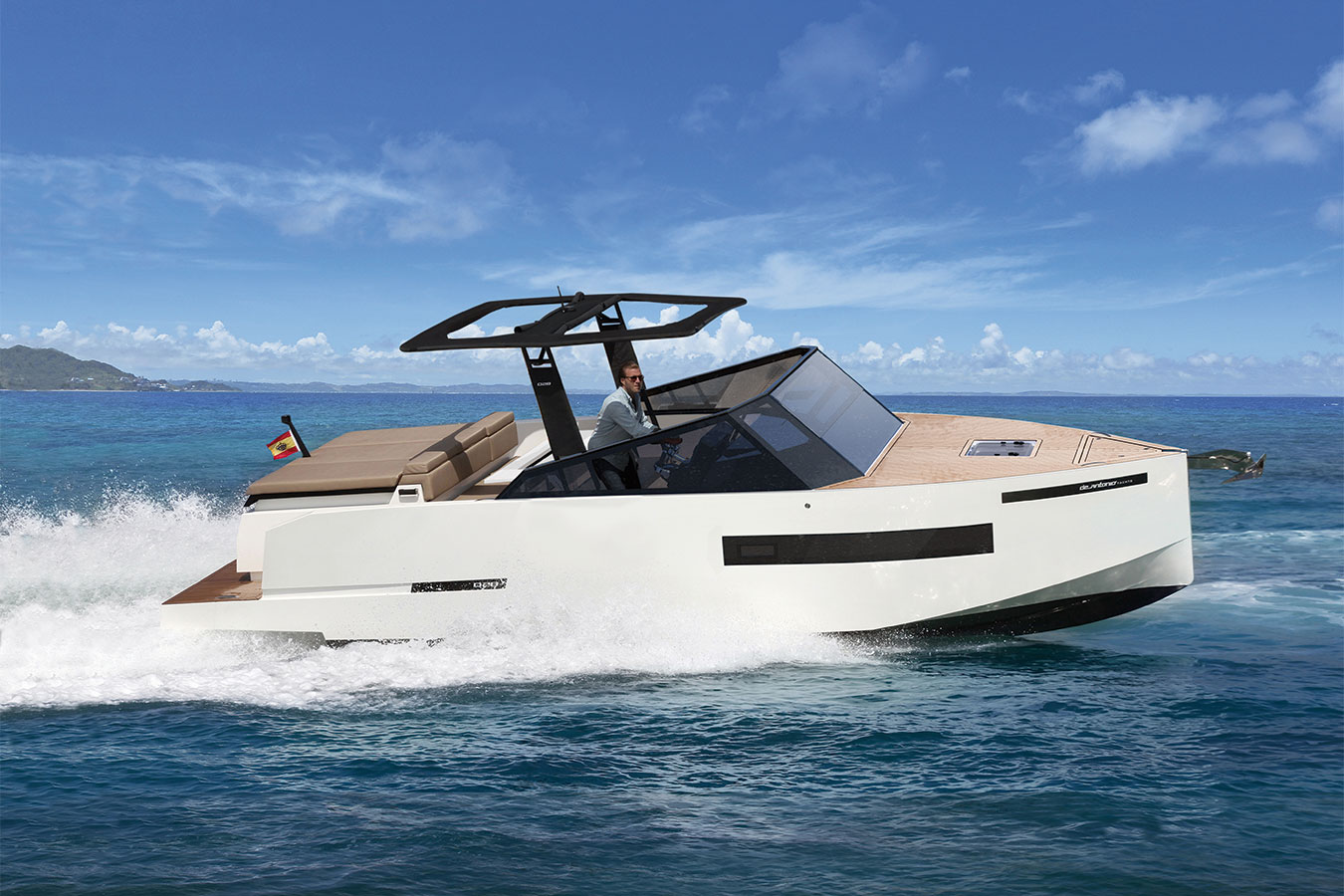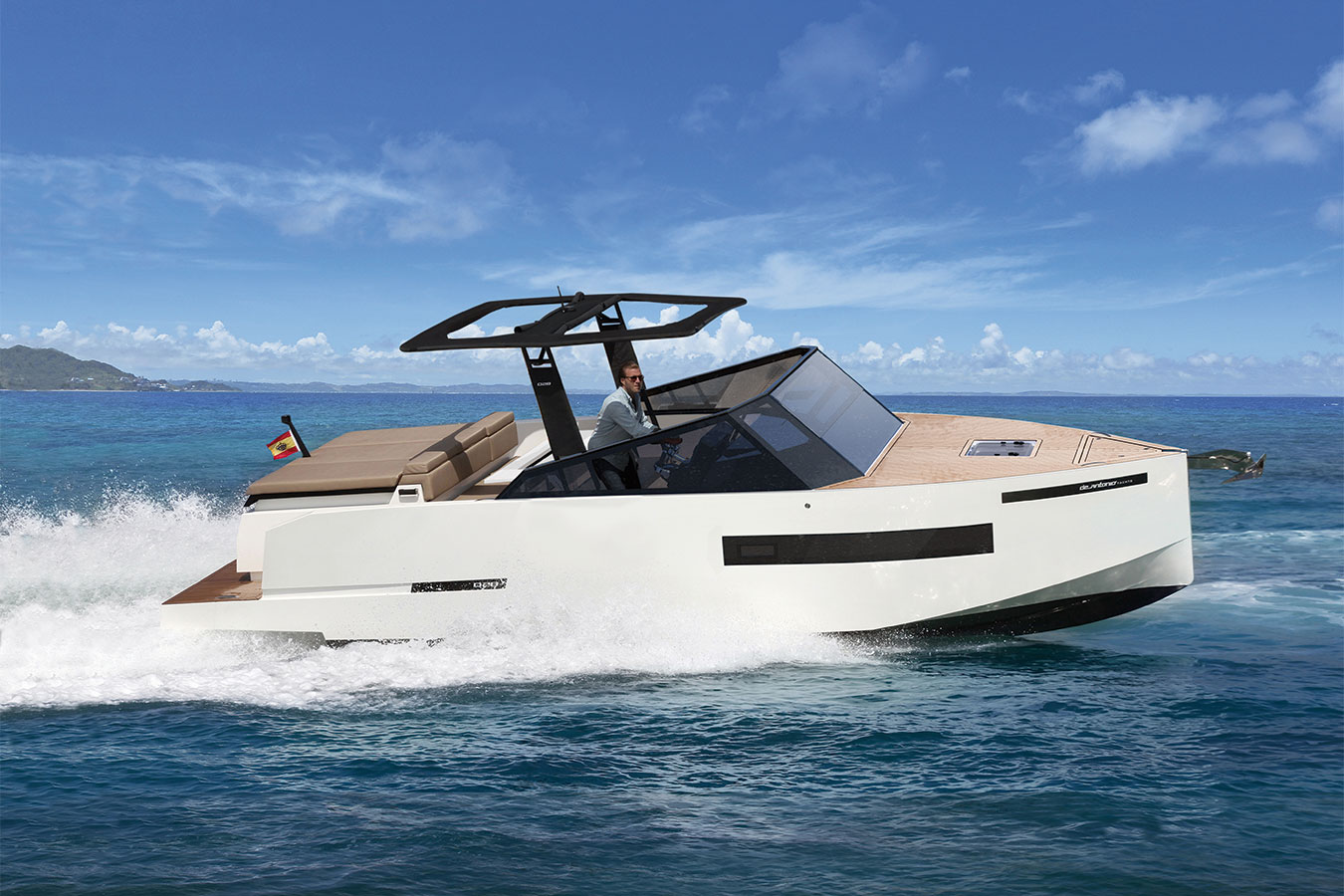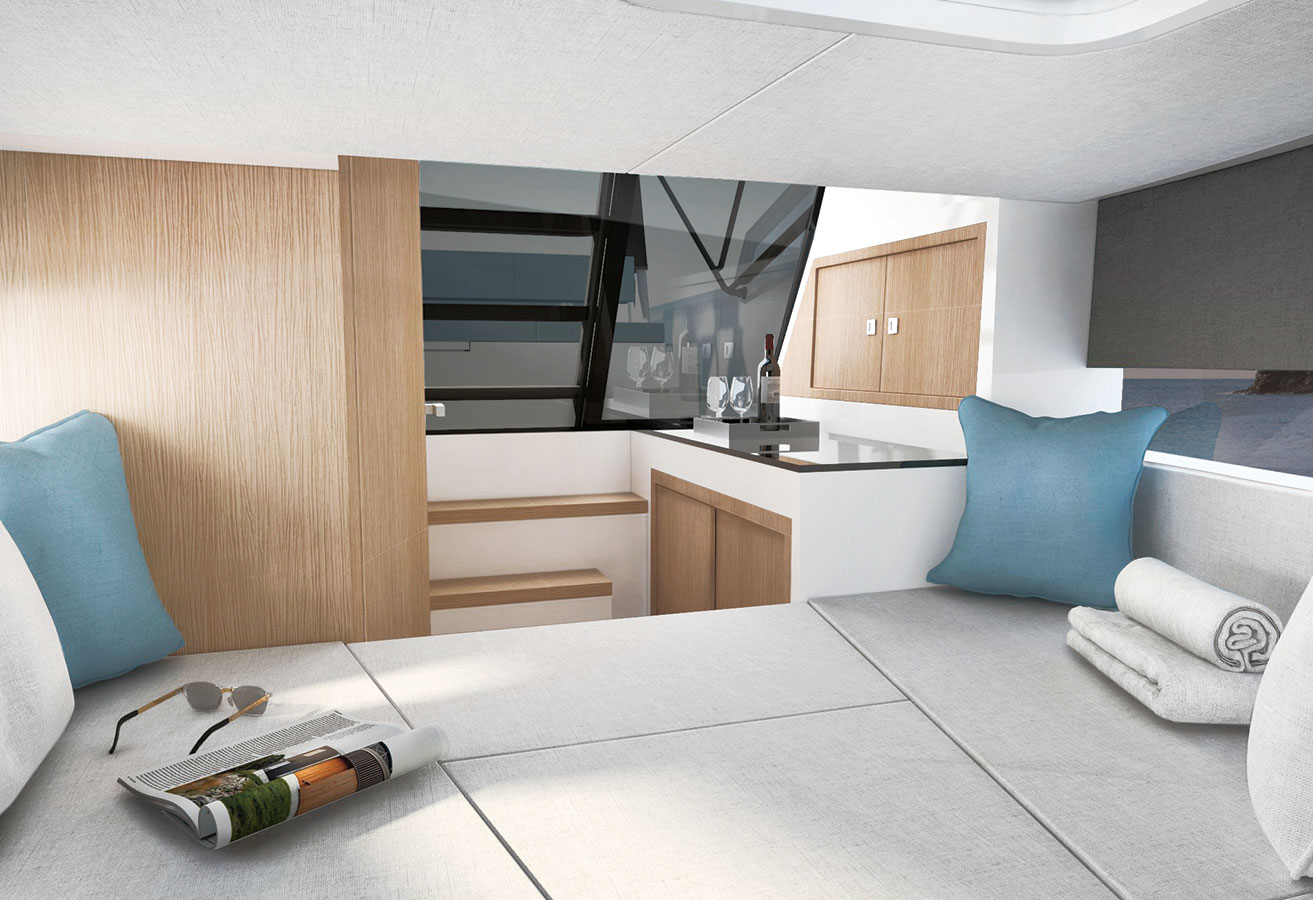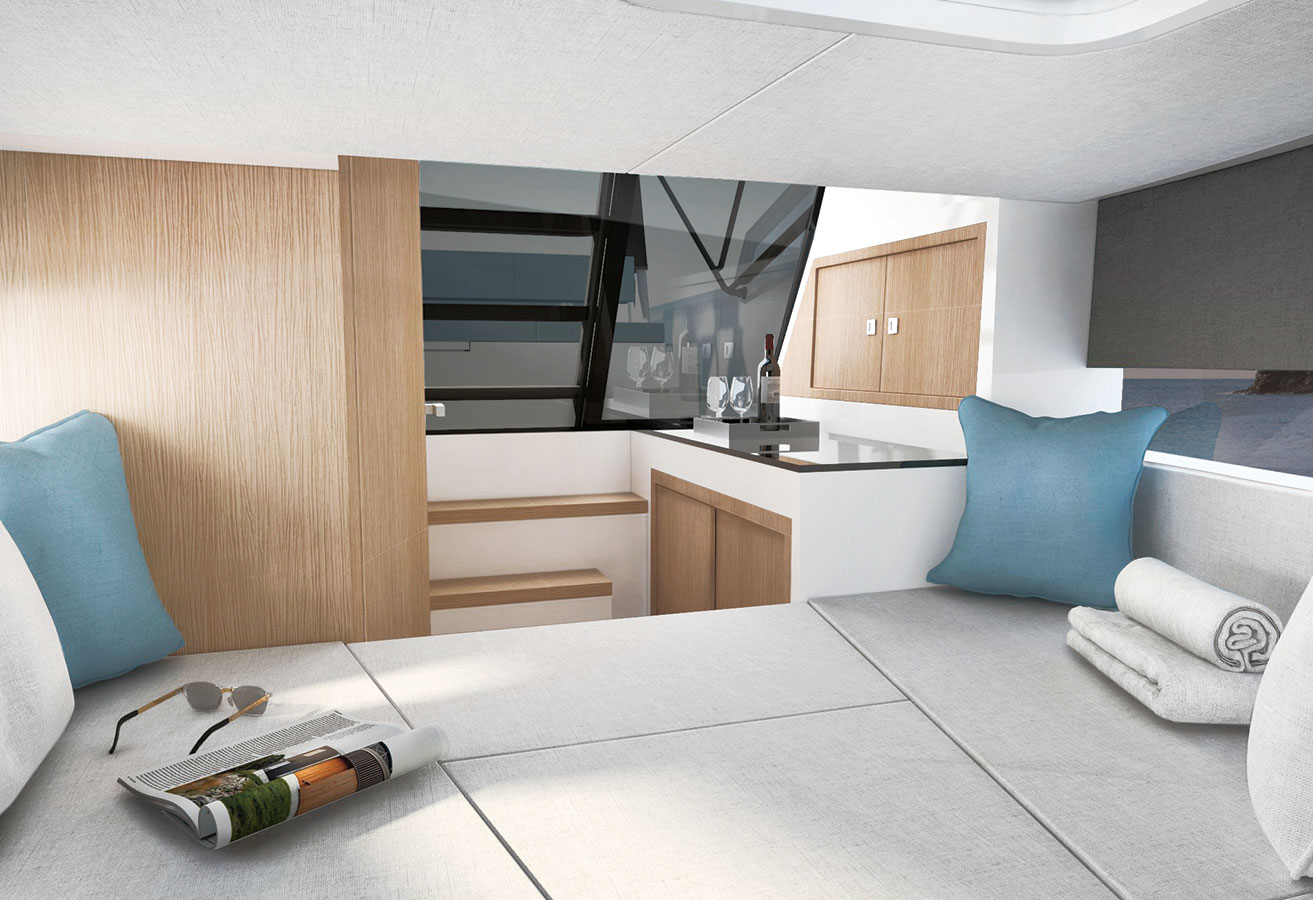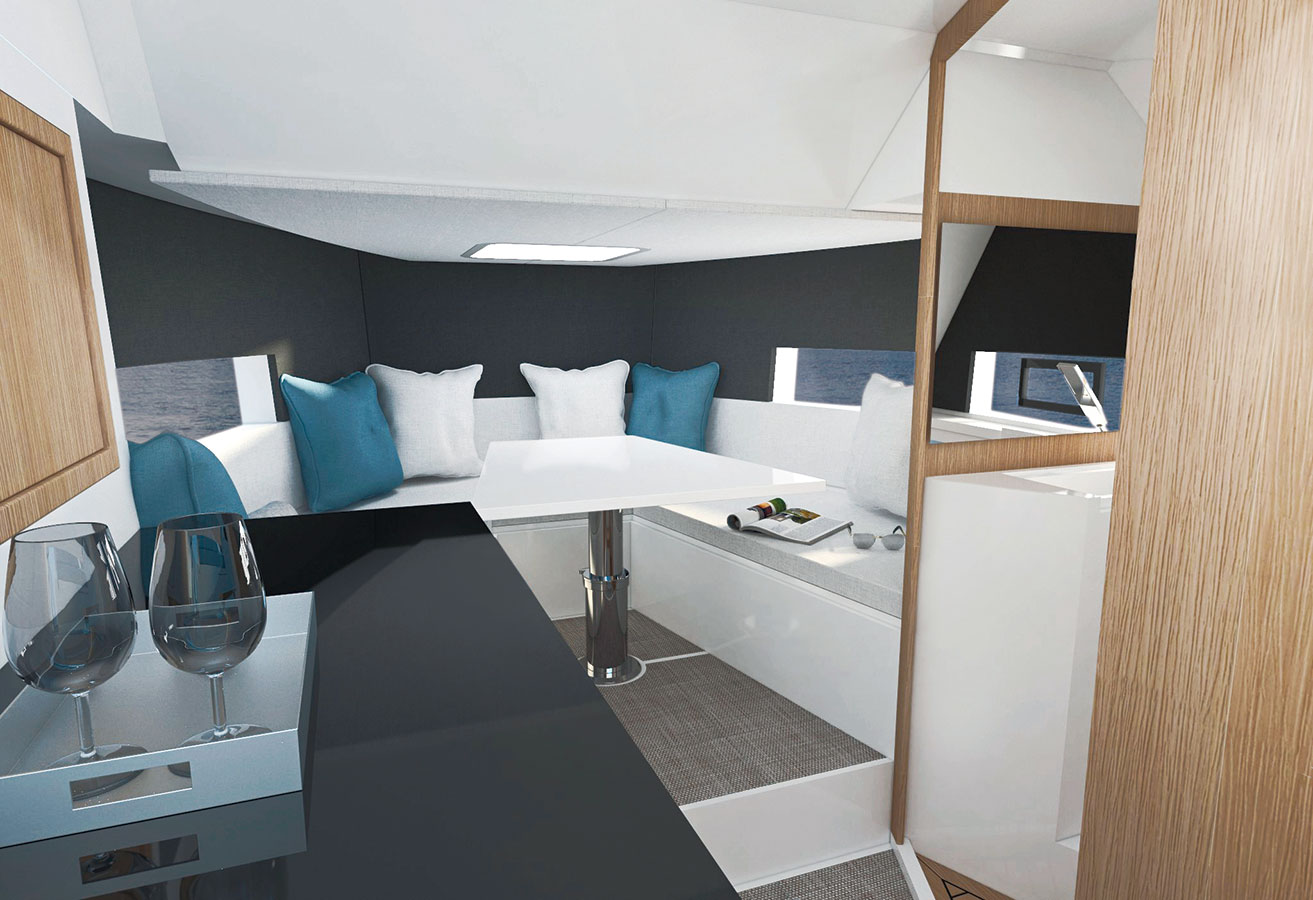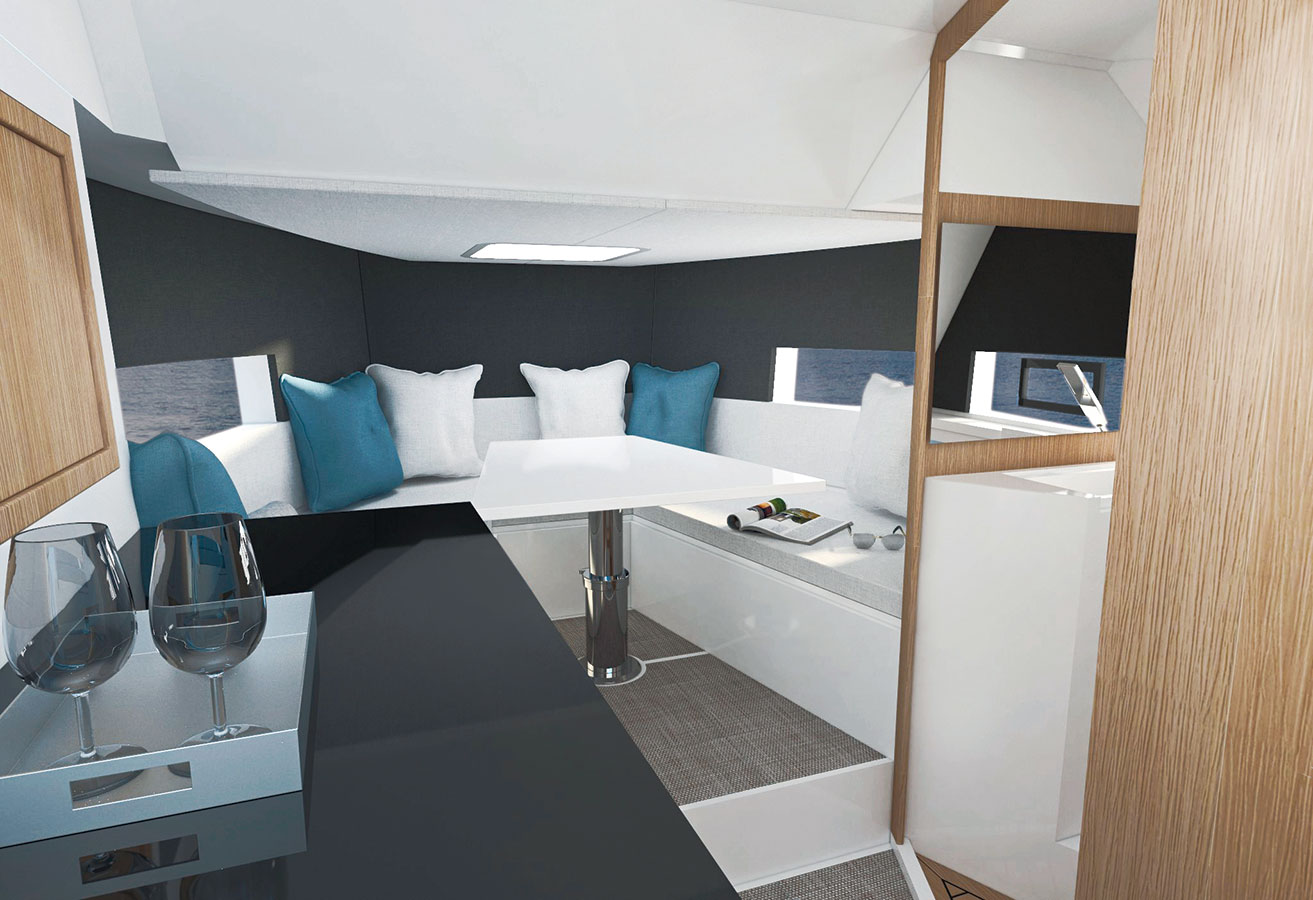 Specs
LENGTH 8,49m*
BEAM 2,95m
DEPTH 0,50m
HULL GRP
WEIGHT 2,5 T
FUEL TANK 420L
WATER TANK 70L
PASSENGERS 10
CABINS 1*
BATHROOMS 1
MIN POWER 300hp
MAX POWER 400hp
CRUISING SPEED 25 Kts*
MAX SPEED 40 Kts*